"Thérèse Raquin" Opens at Roundabout's Studio 54 Theatre
Thérèse Raquin Debuted At Studio 54 On Broadway Starring Keira Knightley, Judith Light, Gabriel Ebert, Directed By Evan Cabnet, In An Adaptation Of Emile Zola's Novel Written By Helen Edmundson
---
Keira Knightley Makes Her Broadway Debut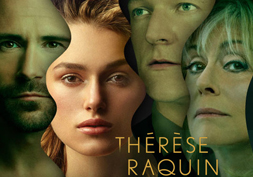 This past week, Thérèse Raquin opened at Studio 54, a Broadway venue owned and operated by the Roundabout Theatre Company. It had been running in previews for 30 performances since the first on October 1, 2015. Based on the novel by Émile Zola, Thérèse Raquin is a new adaptation written by Helen Edmundson, who also adapted the play Coram Boy which ran on Broadway in 2007, and who has made a big name for herself in Britain as both a playwright of original works and an adapter of existing source material.
This production is directed by Evan Cabnet, who has previously directed one play on Broadway, The Performers in 2012, and who is a regular director Off-Broadway with the Roundabout Theatre Company. In the title role of Thérèse Raquin, Keira Knightley makes her Broadway debut. Well known for her screen roles in such films as Pride and Prejudice and Star Wars: Episode I - The Phantom Menace, she has also appeared onstage in London, such as in the recent production of Lillian Hellman's The Children's Hour opposite Elisabeth Moss. In this show, she stars alongside Gabriel Ebert, Judith Light, and Matt Ryan.
Less Than Stellar Reviews by Major New York Critics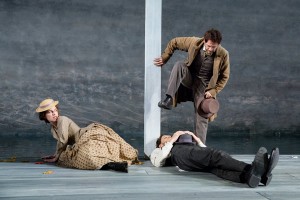 After the opening night of Thérèse Raquin, Ben Brantley from The New York Times called it a bleak literary melodrama, resenting how Keira Knightley's character never evolves from the stern pessimistic way in which she enters the stage in the first scene. Adam Feldman from Time Out New York was more positive in his response, seemingly captivated by the sad tale of a woman who is caught in a trap by his husband and her mother-in-law.
Jeremy Gerard from Deadline did not like the play, disappointed that all the sexiness has been drained from Keira Knightley, a sexy woman, and disliking how the play does not offer any fun for the audience. Jesse Green from Vulture was more on the fence, finding Knightley's Broadway debut to be stark and somewhat counterintuitive, although disclosing how she had been offered this role three times before. Mark Kennedy from the Associated Press found the revival to be uneven, unsure why Knightley would have chosen to play such a withdrawn and diffident character, but then finding reassurance when she shows her passionate side in the moments of adultery.
Middling Performance at the Broadway Box Office
In the last reported week of box office figures, the week ending November 1, 2015, Thérèse Raquin brought in $352,583, which represents 41.72% of its gross potential. The highest weekly gross thus far took place the week prior, the week ending October 25, 2015, in which it brought in $413,925, or 48.98% of its gross potential. Even with such a big star as Keira Knightley, and Tony Award winners Gabriel Ebert and Judith Light, audiences are less than eager to buy tickets to Thérèse Raquin.
This may be due to the French title making some theatregoers reluctant, or it may be due to the play's reputation as stark and less than jolly good fun offered by much of the other fare on Broadway. Nevertheless, the play will have a difficult time working to make back its investment, and looks unlikely to turn a profit in this limited engagement. It will probably be able to make it to the end of its slated run, mostly because it is a Roundabout production which offers more of a financial buffer than with independently produced commercial shows.