There's No Place Like a Train for the Holidays: Get on Board for "A Christmas Carol"
Posted on October 30, 2009
---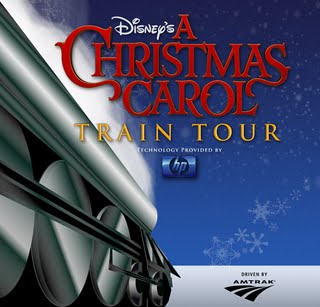 So you still haven't decided where to put Uncle Mel at the Thanksgiving table, but never mind--wire your brain to skip ahead, because big Christmas movie releases wait for no relative. This Friday–Sunday (Oct. 30-Nov.1) Disney's "Christmas Carol" Train pulls into New York's Grand Central Station, the last stop on its 40-stop tour across the country. (Track 37; 9 am -7 pm, Fri and Sat; 9 am-4 pm on Sun.) The occasion? The upcoming release of Disney's big holiday movie "A Christmas Carol." The tour started in Los Angeles' Union Station last May (no, really), and spent the summer and early fall traveling across the country, covering more than 16,000 miles of track and touching in points from Santa Fe to St. Louis, Oklahoma City to Omaha. Each train car (yes, they will remain stationery) showcases a different aspect of the film's production, and activities galore are on board for guests of all ages; you can check out objects from the Charles Dickens Museum in London; wander through digital galleries; and even be serenaded by holiday carolers. And yes, you can also(no surprise) catch a glimpse of a pivotal scene (so we're told) in the 3-D film. The walk-through takes about an hour; lines are expected to be long; but--on the upside—the tour is free, and no reservations are needed. So get into the holiday spirit--even if you're still several holidays behind.