"The Terms of My Surrender" Slammed by Critics
The Terms Of My Surrender, Michael Moore's One-Man Broadway Debut, Received Negative To Mixed Review After Its Opening Night This Week.
---
Michael Moore's Broadway Debut Is An Ego Pulpit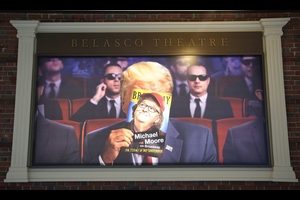 On August 20, 2017, The Terms of My Surrender had its official opening night at Broadway's Belasco Theatre, where it had been running in previews since July 28, 2017. Michael Moore, the divisive liberal documentarian of such works as Fahrenheit 9/11, Sicko, and Bowling for Columbine takes to the Broadway stage for an unconcealed mission: to take down Donald Trump.
While Moore has risen amongst the noise of the present political climate as a singular voice to whom people will lend an ear, the decision for him to make his Broadway debut in this solo show is a questionable means to his declared intentions.
Michael Mayer Veers From Tradition
The show is directed by Michael Mayer, who was behind such Broadway shows as Hedwig and the Angry Inch, On a Clear Day You Can See Forever, and American Idiot, but in this scenario it's hard to imagine what Mayer contributed, besides experience with how the different design elements of a minimally designed Broadway show work together.
In this case, The Terms of My Surrender is not quite a play; there is a script, but Moore veers from the script each night. According to Jesse Green of The New York Times, this impromptu delivery does not succeed in responding to current events so much as it results in a series of stutters and long-winded diatribes.
A Call To Action
Nevertheless, Moore did not intend his show to be a rally, nor did he want it to be a kumbaya style feel-good evening – he wanted it to be a call to action. However, with his audience presumably full of those who already generally ascribe his political beliefs, it's hard to imagine exactly what type of action he expects to motivate from his ticketbuyers.
Mauled By Critics, Michael Moore's Show Isn't A Sell-Out Either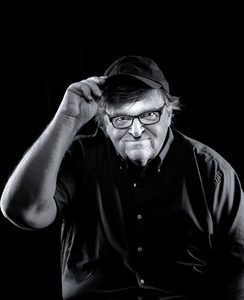 The details of The Terms of My Surrender were kept generally under wraps until Moore began performances at the Belasco, the reason for which seems to be to build buzz for an inevitable disappointment.
When the press was finally released from their review embargo after opening night, the truth was revealed, and not a single major critic was an unadulterated fan. Jesse Green from The New York Times remarked that Moore is less preaching to the choir than he is bragging to it, using his own biography – such as winning a seat on the school board in Michigan at age 18 – as a launching off point for a supposed plea for taking action.
A Battle Of Egos
However, Green reports, there is very little in terms of specific suggestions for how this action is to be taken. Meanwhile, Jake Nevins from the Guardian was slightly more generous minded towards the production, but also found it to be an exercise in useless pretension.
While admitting that he doubts any audience member will be inspired to change their beliefs or actions in a significant way, he also states there is something authentic about Moore, which extends beyond his working-class dress and demeanor; he truly does take issue with Donald Trump, but the problem is that he is a sort of counter-figure to the President, rather than an antidote, and the result is an apparent battle between two men of large egos.
Well-Meaning But Misappropriated Show

Charles McNulty of the Los Angeles Times was repulsed by the show, calling it a well-meaning misfire, finding it alienating if well-intentioned. Barbara Schuler from Newsday also had a negative reaction, deeming it barely theatre, and a poorly executed attempt to get everyone to understand that even one person can make a difference.
Matt Windman from AM New York agreed that the show was preaching to the choir, but did concede that is a fun and free-wheeling night in the theatre. Nevertheless, the show is not selling out. In the last reported week of box office figures, the week ending August 6, 2017, The Terms of My Surrender brought in a weekly gross of $456,195, which represents 69.18% of its gross potential.
Discount Broadway Tickets
---
---