"The River" Concludes Its Run and Recouped Investment
The River, starring Hugh Jackman and Laura Donnelly, Concludes Its Profitable Run On Broadway, Demonstrating Both Critical And Financial Success.
---
Success Both Critically And Commercially
On February 8, 2015, The River concludes its run at the Circle in the Square Theatre on Broadway. It has been running since its first preview on October 31, 2014, with its official opening night taking place on November 16, 2014. The small-scale play starred Hugh Jackman along with Laura Donnelly and Cush Jumbo, the latter two who are British actresses making their Broadway debuts.
Hugh Jackman, on the other hand, is a huge Broadway name, as well as a magnificent actor commended for his work on both stage and screen, musical and dramatic. It is no question that Jackman's stature contributed to the vast success of this show at the box office, but the unmatchable quality of the production precedes him.
"The River" Directed By Ian Rickson
The play is written by Jez Butterworth, an English writer whose previous Broadway production, Jerusalem, starred Mark Rylance and received rave reviews in both London and New York. Like Jerusalem, The River is also directed by Ian Rickson, and also produced by Sonia Friedman Productions, both of whom have a secure reputation for producing only works of the finest quality.
A Profitable Production After Just Seven Weeks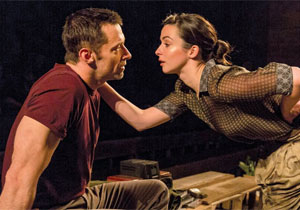 After just seven weeks of performances, The River recouped its $3.2 million capitalization and entered profitmaking territory. This is especially impressive given the intimate size of the Circle in the Square Theatre, which seats just 776 audience members, by far smaller than most all other houses on Broadway.
With just three actors and one set staged "in the thrust," the show still had a moderately high budget for a play, presumably due to the star salary required by Jackman's representation. However, this was no challenge for this dramatically compelling and intellectually provocative work of art, as it attracted as much money as it did praise.
Broadway Cares/ Equity Fights AIDS
In addition, the creative team decided to incorporate an innovative strategy into their efforts to raise money for Broadway Cares / Equity Fights AIDS. Whereas most shows in this season raise money merely with a post-show speech and some plastic buckets held by supporting cast members, Jackman took center stage once again following his bow to conduct a crowd-pleasing auction. The item for sale was none other than the t-shirt he wore each night.
The winner also earned the chance to go backstage with him briefly to receive it. Of the $5.2 million record-breaking amount that this organization earned from the totality of Broadway shows, The River contributed a miraculous $550,000. In one high profile example, Taylor Swift attended the show with her family on Christmas Eve, and purchased his t-shirt for $6,000. Jackman matched that amount himself, and another audience member bought his belt for $2,000.
Proof That Quality-Driven Productions Can Thrive On Broadway
It is to the credit of the marvelous Sonia Friedman Productions that plays like The River can even come to Broadway in the first place, not to mention earn vast profits and critical praise. This is an example of expert producing, which is an underappreciated artform perfectly illustrated in this case.
Sonia is an advocate of the artist, and that is why Jez Butterworth's play and works directed by Ian Rickson time and again are produced by her company. It is not only a matter of seducing the perfect star, in this case Hugh Jackman, but it is also demonstrating a true appreciation for good art that allows these artistic relationships to thrive. It is certainly not an easy balance to strike, but The River has proved that this recipe does exist; it just takes experience, dedication, and excellent taste.