"The Play That Goes Wrong" is Longest-Running Play on Broadway
The Play That Goes Wrong Is The Longest Running Play Currently On Broadway, Having Surpassed 300 Performances At The Lyceum Theatre.
---
Comic Farce Surpasses 300 Broadway Performances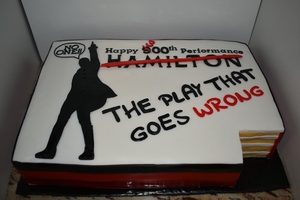 On March 9, 2017, The Play That Goes Wrong began Broadway performances, following a successful, Olivier-Award winning run in London, where the show is also still running. Following positive reviews on the opening night of April 2, 2017, the show seemed promising to stick around for a while longer.
Still, it was ambitious for the producers, Kevin McCollum and film director and producer J.J. Abrams, to opt for an open-ended run for a straight play.
All British Cast
Whereas musicals often vie for commercial success through aiming to stay open for as long as possible, straight plays are often dependent on A-list actors in the cast who have busy schedules, and thus are confined to limited engagements. Nevertheless, with an all-British cast of names that are far from household status, at least in the U.S., the producers decided to give an open-ended run a go.
With a cheeky sense of humor that translated into a humorous marketing campaign, The Play That Goes Wrong immediately stood out among the fare. As of this month, it has surpassed its 300th performance, and is now considered the longest running straight play on Broadway. This sense of humor is exemplified by a cake that the company made to celebrate the occasion; it said "Happy 900th performance, Hamilton," with 900 crossed out and 300 written in its stead, and Hamilton crossed out with The Play That Goes Wrong written as if in correction.
Still A Long Way To Go To Make The Record Books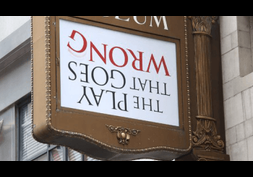 While The Play That Goes Wrong is the longest running straight play on Broadway currently, it is far from the longest running play of all time.
While the records for longest running shows are mostly held by musicals – the top three being The Phantom of the Opera, Chicago, and The Lion King – there are still quite a few plays from across history that set the bar quite high for The Play That Goes Wrong.
Enduring Performances
The longest running straight play on Broadway of all time is Life With Father, a 1939 play by Howard Lindsay and Russel Crouse, which ran for 3,224 performances until 1947. Around the same time, Tobacco Road by Jack Kirkland ran for 3,182 performances from 1933 to 1941. The decade prior, Abie's Irish Rose by Anne Nicols ran for 2,327 performances from 1922 to 1927.
In the 1970s, a couple plays performed extraordinarily well: Gemini by Albert Innaurato ran for 1,819 performances from 1977 to 1981, and Deathtrap by Ira Levin ran for 1,793 performances from 1978 to 1982. In addition, Harvey ran for 1,775 performances from 1944 to 1949, Born Yesterday ran for 1,642 performances from 1946 to 1949, Mary, Mary ran for 1,572 performances from 1961 to 1964, The Voice of the Turtle ran for 1,557 performances from 1943 to 1948, Barefoot in the Park ran for 1,530 performances from 1963 to 1967, Same Time, Next Year ran for 1,453 performances from 1975 to 1978, and Arsenic and Old Lace ran for 1,444 performances from 1941 to 1944.
"The Play That Goes Wrong" Impact
The only play to run for over 1,000 performances since 1980 was Brighton Beach Memoirs, which ran for 1,299 performances from 1983 to 1986. Therefore, while The Play That Goes Wrong has a long way to go to contend with these historical hits, it has recently become a lot more difficult for a straight play to run so long on Broadway.
With the success of this show, a North American tour is to be planned. The 2018 to 2019 tour will include a 5-week stop in Los Angeles at the Ahmanson Theatre. Additional cities and casting for the tour are still yet to be announced.