"The Play That Goes Wrong" Earns Mixed Reviews
The Play That Goes Wrong Opened On Broadway To Mixed Reviews From Major Critics, Despite The Wild Success That This Slapstick Comedy Has Been Receiving In London
---
Mischief Theatre Troupe Upends the Whodunit in New Play on Broadway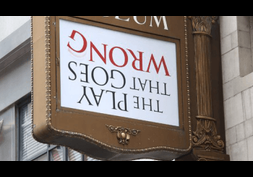 This past week, The Play That Goes Wrong had its official opening night on Broadway, following 27 preview performances that began on March 9, 2017. Presently scheduled for an open-ended run, this slapstick comedy transferred to Broadway's Lyceum Theatre following a wildly successful run in London, where it is still playing in the West End. Written by three members of the Mischief Theatre company, Henry Lewis, Jonathan Sayer, and Henry Shields, all of whom also perform in the play, The Play That Goes Wrong is performed entirely by members of the theatre company who were in the original London run, while a replacement cast has meanwhile taken over for them in London.
Given the success in London for The Play That Goes Wrong, which won Best New Comedy at the 2015 Olivier Awards, the theatre company has also launched additional productions in the same vein. For instance, Peter Pan Goes Wrong has played two consecutive Christmas seasons at the West End's Apollo Theatre, and The Comedy about a Bank Robbery played last year at the West End's Criterion Theatre. As for The Play That Goes Wrong, it was brought to Broadway by the producers Kevin McCollum (Motown the Musical, Something Rotten!, Hand to God, Ragtime) and J.J. Abrams, the film director and producer who is making his Broadway producing debut with The Play That Goes Wrong.
Mixed Reviews from the Major New York Publications
Upon the show's opening, the reviews earned in the U.S. did not quite match the hype from across the pond. Ben Brantley of The New York Times admitted that he found an allure in watching things go smash in a safe environment during this production, but ultimately concluded that the comedy was a bit infantile. Meanwhile, Matt Windman from AM New York found the show to be completely appealing, calling it an unofficial sequel to Michael Frayn's Noises Off, and finding great pleasure in the knockabout farce that results from the alchemy required to turn chaos into broad comedy.
Still, Adam Feldman from Time Out New York was more on the fence, for though he relished in the schaudenfreude of watching the theatrical elements go wrong, he felt that this show took it to farcical extremes to moderate effect. On the other hand, Frank Rizzo from Variety was a big fan of this show, backing up his Hollywood pal J.J. Abrams' choice to back it, and calling it "deliciously demented" and "comic gold." And yet, Jeremy Gerard from Deadline found it to contain an overabundance of nonsensical sight gags, and wrote off J.J. Abrams' involvement as a publicity stunt.
Middling Broadway Box Office May Be Creeping Upwards
In the last reported week of box office figures, the week ending April 9, 2017, The Play That Goes Wrong brought in a weekly gross of $430,599, which represents 64.89% of its gross potential. With a top ticket price of $173.00, the average paid admission was $67.80, and the audience was filled up to an average capacity of 88.6%. While this is not much to write home about, it is a marked increase from the previous week, which brought in a weekly gross of $288,593, or 43.75% of its gross potential. It is also an improvement from the week before that, which brought in a weekly gross of $340,849, or 51.67% of its gross potential.
Therefore, although this play is by no means selling out at the moment, this past week's figures do demonstrate that the box office may be on an upswing. After all, that may be to be expected as the show got a lot of press following the opening night on April 2, 2017. The next week's figures will demonstrate whether the box office may indeed be increasing, or whether it will spike and then dip back down to its pre-opening levels.