The Mystery of Edwin Drood Closes on Broadway
The Hit Interactive Musical The Mystery Of Edwin Drood, Where The Audience Decides Whodunnit, Concludes Its Run At Broadway's Studio 54.
---
The Interactive Musical "The Mystery Of Edwin Drood" Concludes On Broadway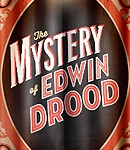 For the last time, The Mystery of Edwin Drood will be solved today, as the show's audience votes whodunnit. The interactive musical, based on the unfinished Charles Dickens novel of the same name, has been delighting Roundabout Theatre Company audiences since October but is finally concluding its limited run at Studio 54.
Written by Rupert Holmes, The Mystery of Edwin Drood was first seen at the New York Shakespeare Festival in 1985 before the production transferred to Broadway.
The Audience Decides
The musical's distinguishing feature has always been the fact that -- in the spirit of the original novel's lack of an ending -- the show allows the audience to decide who committed the murder that forms the story's central mystery.
Headed by Broadway legend Chita Rivera, The Mystery of Edwin Drood's cast includes Will Chase, Gregg Edelman, Jim Norton, Peter Benson, and Stephanie J. Block.