The Muppets are in Town--But Don't Expect Kermit or Miss Piggy
---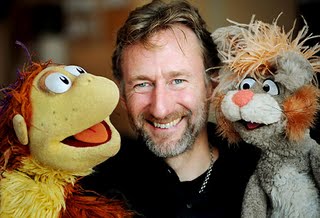 These are not your parents' Muppets...or maybe they are. "Stuffed and Unstrung," an adults-only show now playing at New York's Union Square Theater (100 East 17th Street; 212 505-0700), presents the Muppets the way many people have never seen them. The lead puppeteer is Brian Henson, son of famed Muppets' creator Jim Henson. And while the Muppets are most famous for their TV show, movies, and break-out characters like Fozzy Bear, Sam the Eagle and of course, Kermit and Miss Piggy, the original Muppets actually started life as a group of characters aimed at adults. (Early appearances on "The Tonight Show" and "Ed Sullivan" were aimed at adults, not kids.)
The new show is totally improvisational and relies heavily on audience participation. Unlike many puppet shows (even good ones) the audience actually gets to see how the puppets work. There's also a large screen for those in the audience who merely want to watch the sketches and not the in-between stuff.
Though billed as a kind of wild comedy/variety show for grown-ups, it's also a chance to watch the performers working on the fly and off the cuff. The six puppeteers improvise songs and routines based on the audience's suggestions, right then and there. The show morphed from a class for the puppeteers to work on their skills.
Caveat: Do not expect the kind of humor that permeated "Sesame Street" or the Muppet Show at Disney World. Puppets have found a fair amount of success in the New York theater world during the last few years, with such shows as "Avenue Q" making it big.
For more information, you can go to their website: stuffedandunstrung.com.