"The Little Foxes" Closes as Critical Success, But Not Box Office Hit
The Little Foxes Concluded Its Recent Broadway Revival On Sunday, July 2, 2017 In A Production Starring Cynthia Nixon And Laura Linney.
---
Laura Linney And Cynthia Nixon Earned Raves In Alternating Roles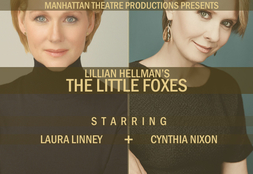 On July 2, 2017, The Little Foxes played the final performance of this year's revival at the Samuel J. Friedman Theatre. The show had begun previews on March 29, 2017, followed by an opening night on April 19, 2017.
Upon closing, the show had played 87 regular performances in addition to 22 preview performances. This revival of a 1939 play by Lillian Hellman, whose other works include The Children's Hour and Toys in the Attic, was directed by Daniel Sullivan for Manhattan Theater Club.
Nixon Wins Tony Award
A major creative decision on which the production relied was the choice to have the two leading ladies – Laura Linney and Cynthia Nixon – alternate in the lead role of Regina and the supporting role of Birdie. On opening night, Linney played Regina and Nixon played Birdie, and thus for the Tony Awards, Linney was nominated for the award for Best Performance by an Actress in a Leading Role in a Play, and Nixon was nominated for the award for Best Performance by an Actress in a Featured Role in a Play.
In the end, Nixon won her award, but Linney lost to Laurie Metcalf, who starred in A Doll's House, Part 2. In addition, the production was nominated for Best Revival of a Play, which it lost to August Wilson's Jitney, Best Performance by an Actor in a Featured Role in a Play for Richard Thomas, which it lost to Michael Aronov from Oslo, Best Direction of a Play, which it lost to Rebecca Taichman from Indecent, and Best Costume Design of a Play, which The Little Foxes' Jane Greenwood won.
Raves From Critics But A Tough Sell At The Box Office
In addition to all of this Tony Awards recognition, The Little Foxes also received unanimous acclaim from critics upon its opening night. Alexis Soloski from The New York Times called the revival "nimble" and "exhilarating," Matt Windman from AM New York called it a "simple but effective production," David Cote from Time Out New York called it "richly satisfying," Linda Winer from Newsday denoted this production as an excellent example of why non-profit theatres should program in Broadway houses alongside commercial producers, and Jeremy Gerard from Deadline called the play "irresistible" and "a nasty, tasty snakepit."
In the weeks following the opening night, The Little Foxes did see a slight uptick in box office receipts, due in part to spreading word of mouth, egged on by the Tony nominations.
Contemporary Show Falls Short Of Ambitions
Nevertheless, over the course of the run as reported thus far, the average percentage reached of gross potential throughout the weeks until June 25, 2017 was just 54.45%. The average paid admission was $88.47, and the audience was filled up to an average of 95.88%. While these numbers are not horrendous, they are certainly not a sign of a commercially successful production.
Nevertheless, as Linda Winer from Newsday pointed out, the company behind this production is the not-for-profit Manhattan Theater Club, and thus soaring profits are not integral to the business model. Instead, this revival of The Little Foxes was an excellent addition to this year's spring Broadway season, bringing this 20th century classic to contemporary audiences with stellar performances by beloved actors.