"The Lion King" to Hold Lottery for Free Broadway Show!
The Lion King Is Free On Nov 15th In Honor Of Its 20th Anniversary. Tickets Are Through A Lottery On Nov 12th In Times Square And Public Library Locations.
---
The Lion King Free Tickets For November 15th Performance In Honor Of 20th Anniversary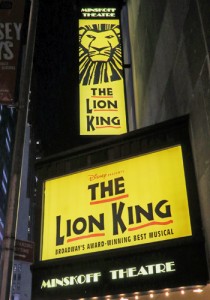 For the 8:00pm evening performance on November 15, 2017, The Lion King will be free for every seat in the house. In celebration of the long-running musical's 20th Anniversary, the producers of the show have decided to open up a lottery to allow audience members to see the show completely free of charge.
This is an effort to thank New York City for its ongoing support, and to allow theatregoers who might otherwise not be able to afford to see this majestic musical onstage the opportunity to do so. The Lion King played its first preview on October 15, 1997, and officially opened on November 13, 1997.
"The Lion King" Wins 6 Tony Awards
That year, the show won 6 Tony Awards, including Best Musical, Best Direction of a Musical for Julie Taymor, Best Choreography for Garth Fagan, Best Scenic Design of a Musical for Richard Hudson, Best Costume Design of a Musical for Julie Taymor and Michael Curry, and Best Lighting Design of a Musical for Donald Holder.
As of today, the show will have played 8,343 performances, including previews. Presently, The Lion King has the honor of being third longest running Broadway show of all time, following only The Phantom of the Opera and Chicago. This is an outstanding run for a show of any kind, and in this case, it launched a string of successful Disney musical to stage adaptations, including Aladdin and the upcoming Frozen.
Classic Favorites Revolutionized
With memorable characters in extravagant costumes, and unforgettable songs such as "Circle of Life," "I Just Can't Wait to Be King," "Be Prepared," and "Can You Feel the Love Tonight," The Lion King revolutionized what musical theatre can be about. Julie Taymor, the show's visionary director, is also represented this season with the revival of David Henry Hwang's M. Butterfly, which is currently in previews.
Lottery Will Open On November 12, 2017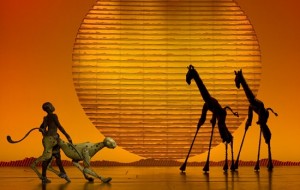 In order to win the chance to see The Lion King for free on November 15, 2017, you must sign up for a lottery on the day November 12, 2017. On this day and this day only, there are several ways to enter the lottery, but all of them are in-person in New York City.
Most noticeably, there will be a celebratory event in Times Square from 10:00am to 6:00pm on November 12, 2017 to honor the 20th Anniversary. On the Times Square plaza between 45th and 46th Streets, contestants will have the chance to enter the lottery.
"Lion King" Themed Events
In addition, there will be the opportunity to participate in a number of Lion King themed events, such as a sharable photo op, inspired by the song "Circle of Life" on Pride Rock, as well as autographs with current cast members and an up-close and personal look at the show's puppets and masks.
Beyond the Times Square event, there are also opportunities to enter the lottery across all five boroughs at New York City Public Library locations. These library locations are as follows:
Queens Library, Central Library (89-11 Merrick Blvd., Jamaica) from 12:00pm to 4:30pm;
New York Public Library, Bronx Library Center (310 E. Kingsbridge Road, Bronx) from 12:00pm to 6:00pm;
Brooklyn Public Library, Central Branch (10 Grand Army Plaza, Brooklyn) from 1:00pm to 5:00pm; New York
Public Library, Inwood Library (4790 Broadway, New York) from 1:00pm to 5:00pm;
New York Public Library, Todt Hill - Westerleigh Library (2550 Victory Blvd., Staten Island) from 1:00pm to 5:00pm.
There is a maximum of one entry per person, and entrants must be 18 years or older.
Discount Broadway Tickets
---
---