The Lion King Pop-Up Exhibit December 1-16
In A First For Broadway, The Lion King Will Be Offering A Pop-Up Exhibit With A Behind-The-Scenes Look Into The Production And A Series Of Workshops
---
Broadway Shows First Pop-Up Exhibit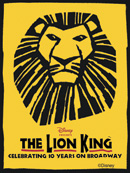 A first for a Broadway show, "Inside The Lion King" is an immersive, pop-up exhibit that can be seen next to Bryant Park at 42nd Street and 6th Avenue (Avenue of the Americas) from December 1st through the 16th.
The exhibit, which is free to view, gives people the opportunity to see and even interact with 86 artifacts associated with the various worldwide productions of The Lion King, including sculpted masks, handmade puppets, artisan costumes, and eye-popping sets, as well as displays of concept materials and sketches. Items like the 13 foot tall elephant and a 17 foot tall ostrich will delight both adults and kids alike.
"Inside The Lion King"
The "Inside The Lion King" exhibit is also designed to give visitors some great photo opportunities. They can pose with a gigantic Wildebeest mask, next to Madame Tussaud's wax figures of Rafiki and the villainous Scar, and they can even step into a thematic representation of the show's most famed musical moment, "The Circle of Life".
A series of workshops will make The Lion King even more vivid for fans. The music, dance, design, and story elements of the Tony-winning musical will be explored in these 90-minute workshops, taking place in the morning and afternoon the weekend of December 8-9 and December 15-16. Children over 6 and adults can participate in the workshops (all children need to be accompanied by a guardian). Visit www.LionKing.com to learn more.