The Lion King: First Broadway Billionaire
The Lion King Is The Fourth Longest-Running Show In Broadway History And Is The First Broadway Show To Bring In In Over One Billion Dollars In Cumulative Gross
---
"The Lion King" Breaks Records On Broadway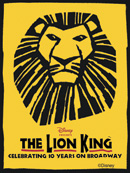 New York City is known to have an unusually high concentration of the world's billionaires, and Broadway mainstay The Lion King can now count itself among them. Over the course of 16 years on Broadway, the Disney juggernaut has brought in over one billion dollars in cumulative gross - a first for any Broadway show.
The Lion King very recently became the fourth longest-running show on Broadway, and its popularity has seldom waned during that time. Rarely offering any kind of discount, the musical (based on the Disney animated film) routinely packs the theater and tops the Broadway ticket sales charts.
Instant Sensation Becomes Fourth Longest-Running Show in History
With stunning direction and design from Julie Taymor, The Lion King was an instant sensation when it opened on Broadway, earning six Tony Awards, including Best Musical (the other contenders for the Best Musical award that year were Ragtime, Side Show and The Scarlet Pimpernel).
The show opened in 1997 at the New Amsterdam Theater and moved to the Minskoff Theatre in 2006, where it still runs to this day with close to 100% of its seats sold every day. Lion King is now Broadway's fourth longest-running show in history. The show has also enjoyed great success with many touring and sit-down productions all over the world.