"The King and I" Extends and Announces National Tour
The King And I Has Extended Indefinitely And Announced Its National Tour. It Received Nine Tony Award Nominations And Excellent Reviews.
---
Nine Tony Nominations And Indefinite Extension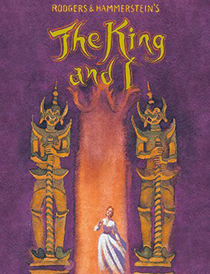 When Lincoln Center's current revival of Rodgers and Hammerstein's The King and I opened on April 16, 2015, it received a full round of rave reviews from critics.
Then, it received nine Tony Award nominations, including those for Best Revival of a Musical, Best Performance by an Actor in a Leading Role in a Musical for Ken Watanabe, Best Performance by an Actress in a Leading Role in a Musical for Kelli O'Hara, Best Performance by an Actress in a Featured Role in a Musical for Ruthie Ann Miles, Best Scenic Design, Best Costume Design, Best Lighting Design, Best Direction for Bartlett Sher, and Best Choreography for Christopher Gattelli.
"The King And I" Breaks Million-Dollar Box Office Mark
Ken Watanabe received this nomination in his Broadway debut, and Kelli O'Hara received her sixth Tony nomination; perhaps this will be her first and long-awaited win. Furthermore, since the nominations were announced, the box office has broken the million-dollar mark for the weekly grosses, and there it has stayed for three weeks and running.
With all of this good news, Lincoln Center announced that the musical will be extended indefinitely at the Vivian Beaumont Theatre. This is big news for the 51 member company, who will continue to play for months to come.
National Tour To Commence November 2016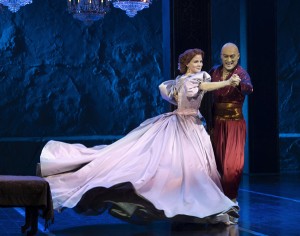 In addition to the news of the indefinite extension, the producers announced that this revival of The King and I will embark on a national tour to begin in November of 2016, launching in Providence, Rhode Island.
Throughout the 2016 to 2017 season, the show will play a mixture of multi-week and single week runs in different cities throughout the nation. It has not yet been announced what the cast will be, or whether it will be an Equity or non-Equity tour, which is always a matter of some discussion given the costs and benefits to both producers and company.
Bartlett Sher's Success
Comparably in 2008, Bartlett Sher directed another revival of a timeless musical – South Pacific – also starring Kelli O'Hara and also produced by Lincoln Center Theatre. That show, too, was a huge success, extending at first indefinitely and ultimately running for 996 performances, in addition to 37 preview performances.
When South Pacific began its national tour, it did so in a non-Equity production with a smaller orchestra in order to save costs. It is possible that The King and I will follow suit, although that may stir some controversy.
Rave Reviews And Excellent Box Office
Upon the show's opening, Ben Brantley of The New York Times found The King and I to be impressive and resplendent, relishing in the detailed revival. David Cote of Time Out New York found the show to be majestic, pointing out the timelessness of this masterpiece. David Rooney of The Hollywood Reporter found the revival to be breathtaking and magnificent, praising not only the large scale of the production but also its fine quality.
Steven Suskin of The Huffington Post enjoyed that the show was produced as written, rather than taking unnecessary artistic liberties, thereby preserving the classic. Robert Kahn of NBC New York was equally smitten by the production, impressed by the cast of over 50 and deeming Kelli O'Hara's performance astonishing.
A Strong Future Ahead
Following suit, the box office has been excellent. In the last reported week of box office figures, the week ending May 31, 2015, The King and I brought in $1,095,371, which is the largest weekly gross in the run thus far. This is still only 89.90% of the show's gross potential, but it shows much promises to continue increasing in upcoming weeks.
With a top ticket price of $297.00, that week's average paid admission was $130.77. Therefore, audience members are willing to pay top dollar to see the revival of this classic, with such a breathtaking production and magnificent reviews.
Discount Broadway Tickets
---
---