"The Heart of Robin Hood" Delays Broadway Run
The Heart Of Robin Hood Is Indefinitely Postponed From Its Intended Broadway Arrival This March After Seeing Success In Toronto And Extended Production.
---
Producers Extend Toronto Run for Four Weeks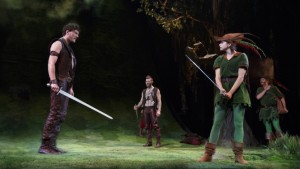 The Heart of Robin Hood is a new play by David Farr, directed by Gisli Örn Gardarsson, and featuring music by the bluegrass roots band Parsonsfield, based in Connecticut. It was scheduled to begin previews on Broadway on March 11, 2015, but producers recently announced that the show would not play as planned.
The reasoning is principally due to low ticket sales. The group sales box office reported slower interest than anticipated, and meanwhile the Toronto run was selling very well.
"The Heart Of Robin Hood" Limited Engagement Run Cancelled
Therefore, the producers opted to extend the run at Toronto's Royal Alexandra Theatre for four weeks until March 29, 2015. Another reason that this decision may have been made is that the producers had only arranged for a limited run of 5 weeks at the Marquis Theatre, due to theatre availability.
However, it would be significantly more preferable to have a theatre that allowed for the potential of an open-ended run, as this show could be a long-running hit if it found the right traction. Therefore, the next time the show finds a theatre, it may be able to arrange for a longer availability. It is not clear if the producers needed to pay a fee for the last-minute cancellation, but Broadway theatres are always in high demand, so chances are it will be snatched up quickly.

Not A Musical, Not A Spectacle, Not A Spoof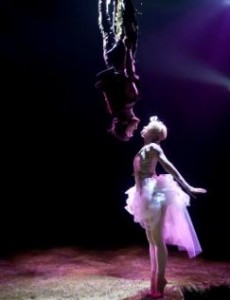 Though Toronto audiences are finding The Heart of Robin Hood to be a very appealing show, a prominent Toronto critic expressed ambivalence about whether the show would fare well on Broadway.
Though its themes, classic story, and fun staging are all certainly appealing for children and adults alike, it is not a musical, which could make it a less interesting choice with all of the musical options on Broadway at the moment. Furthermore, it is not purely a spectacle such as Spiderman: Turn Off the Dark, so it will not be able to ride exclusively on that.
A Unique Take On A Classic Tale
Nevertheless, it does contain a fair amount of acrobatics, comedy, aerial choreography, swashbuckling, and dramatic tension. Still, it is not a spoof either, as the show is a fairly serious rendition of the classic Robin Hood tale, although with a unique take. Therefore, it may be tricky for the play to find its audience enough to sustain it through the difficult opening weeks.
The play stars Tony Award winner Gabriel Ebert (Matilda the Musical) as the title character Robin Hood, as well as Tony Award nominee Euan Morton (Taboo) as his nemesis Prince John, in addition to Izzie Steele as his love interest Marion, and Christian Lloyd as the character Pierre.
Indefinitely Postponed
It is not clear when the show will come to Broadway. The Toronto run is extended for another four weeks, and it could potentially extend further. There is always a lot of demand for theatres on Broadway, and it will be a matter of reconciling schedules – with the landlords, cast members, and other key team members – in order to find the perfect slot to bring this show to Broadway.
The play succeeded earlier this year in Winnipeg, and played to rave reviews in Ashland, Oregon at the Oregon Shakespeare Festival. Time will tell whether the more cutthroat environment of Broadway will welcome this unique play when it finally does come to town.
The Press Will Decide
However, the press agent Boneau Bryan Brown removed the show from their website, indicating it will not be coming any time particularly soon. Coincidentally, the account representative from BBB, Christine Olver, left the organization at around the same time as the show announced its delay, relinquishing her shows including The Heart of Robin Hood, The Book of Mormon, The Curious Incident of the Dog in the Night-time, The Elephant Man, and Broadway Cares / Equity Fights AIDS to other BBB staff members.
Therefore, it will be up to another press contact to liaise with reviewers and press personnel when The Heart of Robin Hood does eventually come back to Broadway.