The Glass Menagerie Concludes Its Run On Broadway
The Critically Lauded Revival Of Tennessee Williams' The Glass Menagerie Completes Its 24-Week Broadway Run And Recoups Investment After 7 Weeks.
---
"The Glass Menagerie" Revival Completes Its 24-Week Broadway Run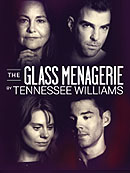 The critically lauded revival of Tennessee Williams' The Glass Menagerie finished its 24-week Broadway run this past Sunday, February 23rd 2014.
Starring Zachary Quinto (Angels in America, TV's Heroes) as Tom, two-time Tony winner Cherry Jones (The Heiress, Doubt) as his mother Amanda, Celia Keenan-Bolger (Peter and the Starcatcher) as his sister Laura, and Brian J. Smith (The Columnist) as the gentleman caller Jim, the production swept critics and audiences away with an essentially perfect record of critical acclaim.
Audiences Flock To The Theatres
Following its opening on September 26, 2013, audiences flocked to the theatre, allowing the show to recoup its $2.6 million investment with seven weeks remaining to reap profits. Revivals are not always successful on Broadway, as it takes a truly eloquent reimagining for an older work to strike a chord with critics and audiences alike.
Director John Tiffany, who along with his award-winning design team from Once, crafted a magnificent recreation of Williams' vision by surrounding the Wingfield family apartment with a pool of reflective black liquid. The play made numerous top 10 lists at the end of 2013, celebrating this as a landmark production of the American masterpiece.
National Familiarity Attracts Wide Demographic
The production attracted a wide demographic due to the play's classic status and national familiarity. With its original New York production in 1945, this play became the first major work by Tennessee Williams and has now been produced a total of seven times on Broadway. Williams is also renowned for plays such as the Pulitzer Prize winning A Streetcar Named Desire and Cat On A Hot Tin Roof, both of which have been revived numerous times, including in the past two years.
The Glass Menagerie was also adapted into two Hollywood films; the more well-known version, directed by Paul Newman in 1987, starred Joanne Woodward (Amanda), Karen Allen (Laura), John Malkovich (Tom), and James Naughton (Jim).
"The Glass Menagerie" Mimics Tenessee Williams' Life
Williams is known as an autobiographical writer; as legendary director and frequent Williams collaborator Elia Kazan once said, "Everything in his life is in his plays, and everything in his plays is in his life."
The Glass Menagerie is understood to mimic his life even more so than his other writing, as Williams (whose real first name is Tom) grew up with his neurotic, Southern belle mother not unlike the character Amanda, and his older sister named Rose who, like the character Laura, suffered from physical and mental instability throughout her life.
Richards and Frankel Team Up Again On Broadway
In writing this piece, Williams coined the term "memory play," granting a poetic freedom to real life that has enabled this work to be particularly resonant. This production transferred to Broadway from its original staging at Boston's American Repertory Theatre, produced by Jeffrey Richards, John N. Hart, Jr., and Jerry Frankel.
The frequent producing team Richards and Frankel are represented this upcoming spring season with the following productions: Robert Schenkkan's All The Way starring Bryan Cranston; Marsha Norman and Jason Robert Brown's musical The Bridges of Madison County starring Kelli O'Hara and Steven Pasquale; Will Eno's The Realistic Joneses starring Toni Collette, Michael C. Hall, Tracy Letts, and Marisa Tomei; and Lonny Price's Lady Day at Emerson's Bar & Grill starring Audra McDonald.