"The Front Page" Begins Previews at the Broadhurst Theatre
The Front Page began previews on September 20, 2016 in a production directed by Jack O'Brien and starring Nathan Lane, John Slattery, and John Goodman.
---
Starry Revival Directed by Jack O'Brien and Produced by Scott Rudin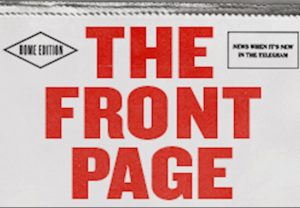 On September 20, 2016,
The Front Page
began previews at the Broadhurst Theatre. The official opening night is scheduled for October 20, 2016. This play by Ben Hecht and Charles MacArthur is a classic comedy that first premiered on Broadway in 1928, and has since been revived in 1946, 1969 in two different runs, 1986, and now today. When the show first premiered, it was an immediate hit, and was soon adapted into a feature film, which was released in 1931. The film
His Girl Friday
, which came out in 1940 starring Cary Grant, was also based on the same story. There have since been two more remakes of the film: in 1949 and 1974. Needless to say, the material has a timeless freshness that keeps audiences excited over the course of nearly a century. This current revival has even more to be excited about than the material: its cast. The actors include some of the biggest names working in theatre and film today. In the role of Sheriff Hartman is John Goodman (
Waiting for Godot
,
Big River
), in the role of Walter Burns is Nathan Lane (
It's Only a Play
,
The Nance
), and in the role of Hildy Johnson, the Herald Examiner, is John Slattery ("Mad Men,"
Rabbit Hole
). Other actors in the show include Jefferson Mays (
A Gentleman's Guide to Love and Murder
), Sherie Rene Scott (
Woman on the Verge of a Nervous Breakdown
), Holland Taylor (
Ann
), and Robert Morse (
Tru
).
A Comedy about Tabloid Reporters on the Police Beat
The Front Page
is set in a dingy newspaper office in Chicago, which happens to overlook the gallows of the Cook County Jail. This jail is also featured in another Broadway favorite,
Chicago
. The star reporter in the story is Hildy Johnson (John Slattery), who shows up late to announce that he's quitting to get a respectable job upon the announcement of his engagement to be married. However, at that same time, it is announced that Earl Williams (John Magaro), a supposed Communist revolutionary who is set to be executed for having shot a policeman, has escaped from prison. All of the reporters, except for Hildy, run out of the room to get more information. At that moment, Williams himself climbs through the window and confides in Hildy that he was set up; he is not a Communist and he did not shoot anybody. It becomes clear that the Sheriff (John Goodman) and the Mayor (Dann Florek) have framed Williams in order to win the black vote (as the policeman whom he supposedly shot was black). Hildy has found the story of a lifetime. However, he now faces the challenge of hiding Williams until he can get the whole story and publish it. He has no choice but to confide in the managing editor of the newspaper, Walter Burns (Nathan Lane), who would do anything to keep Hildy at the paper.
An Excellent First Week at the Box Office
In the first week of six performances,
The Front Page
brought in $921,998, which represents 96.60% of its gross potential. With a top ticket price of $348.00, the average paid admission was $128.47, and the audience was filled up to 101.6%. Especially in the first week, when the first preview can often include many complimentary tickets for friends of the production, that is a strong box office achievement. This bodes well for the future success of this production, which is set for a limited engagement to run until January 29, 2017. In general, Scott Rudin knows how to package productions to be strong box office contenders, between a great script and an all-star cast. Furthermore, Nathan Lane is often a strong leader of an ensemble piece, another example of which was last season's
It's Only a Play
, which did very well financially throughout its run.