"The Elephant Man" Concludes Its Run
The Elephant Man, Starring Bradley Cooper Wraps Up Its Run At The Booth Theatre On Saturday, January 21, 2015, One Day Early Due To Scheduling Conflict.
---
A Broadway Success, Closing One Day Early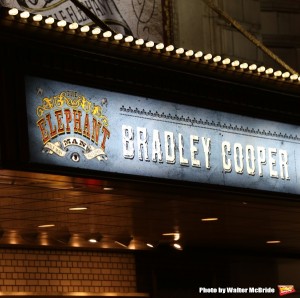 On Saturday, February 21, 2015, The Elephant Man plays its final Broadway performance. It has been running at the Booth Theatre since it began previews on November 7, 2014, and opening night took place on December 7, 2014. This revival of the 1977 play by Bernard Pomerance was directed by Scott Ellis, and has received rave reviews and excellent box office performance.
The production was originally scheduled to conclude one day later, on Sunday, February 22, 2015; Sunday is a common closing night for Broadway shows. However, this particular Sunday also happens to be the Academy Awards, of which the star of The Elephant Man – Bradley Cooper – was nominated for two for the biographical war film American Sniper.
Bradley Cooper Stars In "The Elephant Man"
Not only is this the third consecutive year in which Cooper has received an Academy Award acting nomination (the previous two were for Silver Linings Playbook and American Hustle), but this is the first time he is also being honored with the nomination for Best Picture, as he is also a producer on American Sniper.
This was therefore a good enough reason for The Elephant Man to cancel their final planned performance, allowing Cooper to travel to Los Angeles for the Academy Awards. This is the second instance in which Cooper cancelled performances for an awards ceremony; the first was for the DGA Awards on February 7-8, 2015.
Next Up: London's West End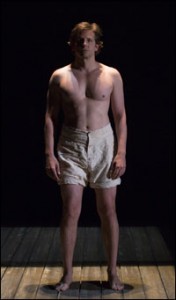 Following the huge critical and commercial success of the Broadway run, The Elephant Man with Bradley Cooper in the lead role will arrive at London's West End this spring. It will begin performances at the Theatre Royal Haymarket on May 19, 2015, and is scheduled to run until August 8, 2015.
It will be a transfer production also directed by Scott Ellis, and Bradley Cooper's co-stars Patricia Clarkson and Alessandro Nivola will join the London run as well. This will actually be the third time that these four individuals will have collaborated on this piece; the first instance was at the Williamstown Theatre Festival in Massachusetts in summer 2012.
Cooper Praised For Physicality Of Performance
It is remarkable that Cooper has the stamina to continue to play this physically demanding role, in which he transforms into a deformed man based off a real-life figure named John Merrick.
Cooper portrays Merrick, as the play has been traditionally done, without means of any stage makeup, but rather by means of physicality alone. It is therefore testament to Cooper's true acting chops to be able to maintain this role in a third incarnation, which not all actors known for their film successes would be able to do.
Excellent Box Office Sales
In the last week of reported sales, the week ending February 15, 2015, The Elephant Man brought in an impressive gross of $1,113,192. This was the sixth-highest-grossing show that week, and by far the highest-grossing straight play. It was only beat out by musicals, specifically The Lion King, The Book of Mormon, Wicked, Aladdin, and Beautiful: The Carole King Musical.
This eight-performance week followed a six-performance week in which Cooper took off two shows to attend the DGA awards, causing the production to cancel those performances. Therefore, there is intense demand for this show as it nears its closing performance. After all, it will be a bit more difficult for New York theatregoers to catch the show in London.