The Economy May be Hairy, But "Hair" Helped with a Food Drive
The New York Daily News/City Harvest Food Drive Asked Performers Auditioning At The Hair Casting Call To Bring Canned Food With Their Resumes
---
Open Casting Call For Broadway's Musical "Hair"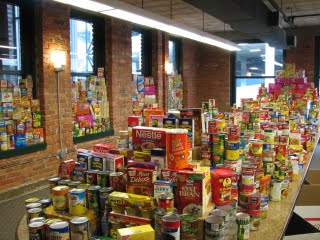 With many raises cut, jobs in question, and unemployment up in New York, donations to food pantries and shelters are down in this less-than-stellar economy.
So the New York Daily News/City Harvest food drive found a unique way to chip in yesterday—aspiring performers auditioning at an open casting call of the musical "Hair" were asked to bring canned goods along with their resumes.
Canned Food And Resumes
Glossy headshots, pages of sheet music and cans of baked bean, soup and other staples were a common sight at the Public Theater on Friday, where the tryouts were held.
By 8:30 am, more than 960 actors had already lined up for their chance to belt out 16 bars of a song and hand over their cans. But New York, don't despair if your singing chops weren't up to par and you weren't possessed by that renegade-counterculture hippie spirit—you can still donate food.
Donation Drop Off Locations
Donations are accepted at all police and fire stations across the city; Modell's sporting-goods stores across the five boroughs; and the lobby of The New York Daily News (450 West 33rd Street in Manhattan).
The latest incarnation of "Hair" opens on Broadway on March 9. So come on, New York, grab a can of pasta fagioli or black bean soup, and get yourself to your nearest police or fire station. Or combine a trip to buy sneakers for little Bobby with a drop-off that's seriously needed. Hair, hair!