"The Crucible" Begins Previews Starring Oscar Nominee Saoirse Ronan
The Crucible began previews at the Walter Kerr Theatre on March 1, 2016 starring Saoirse Ronan and Ben Whishaw in a production directed by Ivo van Hove.
---
A Revival of an American Classic by Arthur Miller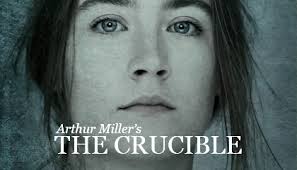 On March 1, 2016,
The Crucible
began previews at the Walter Kerr Theatre. This is the sixth production of this classic play on Broadway. When it premiered in 1953, it won the Tony Award for Best Play. Further Broadway productions took place in 1964, 1972, 1991, 2002, and now 2016. In addition, a film adaptation was made in 1957 under the same name, with a screenplay adapted by Jean-Paul Sartre in collaboration with Arthur Miller, which was nominated for the Academy Award for Best Screenplay. A 1962 opera adaptation by composer Robert Ward won the Pulitzer Prize for Music. The play is considered a classic of American drama. As distinguished from many of Arthur Miller's other well-known works, such as
A View from the Bridge
,
Death of a Salesman
, and
All My Sons
, all of which are frequently performed on Broadway,
The Crucible
takes place centuries before it was written. The subject matter deals with the Salem witch trials which took place during the years 1692 and 1693, presenting many characters from the own of Salem to show how the entire society was bewitched by the preoccupation with witchcraft.
Two-Time Academy Award Winner Leads Exciting Cast
One of the principal parts, Abigail Williams, is played by Saoirse Ronan, who was recently in the spotlight for her Academy Award nomination for Best Actress for
Brooklyn
(2015). She has also been previously nominated for an Academy Award for Best Supporting Actress for
Atonement
(2007).
The Crucible
marks her Broadway debut. Furthermore, the cast includes Tavi Gevinson (
This Is Our Youth
) as Mary Warren, Sophie Okonedo (
A Raisin in the Sun
) as Elizabeth Proctor, Ben Whishaw (
Hamlet
at the Old Vic) as John Proctor, Bill Camp (
Death of a Salesman
) as Reverend John Hale, Ciarán Hinds (
Cat on a Hot Tin Roof
) as Deputy-Governor Danforth, Jason Butler Harner (
The Coast of Utopia
) as Reverend Samuel Parris, Jim Norton (
Of Mice and Men
), as Giles Corey, and many other skilled actors, several of whom are making their Broadway debuts. The production is directed by Ivo van Hove, who recently took Broadway by storm with his innovative revival of
A View from the Bridge
, another Miller classic. The packaging of this production is the brainchild of producer Scott Rudin, who has a knack for pairing classic or new plays with relevant and talented casting, as well as handpicked directing talent.
A Limited Engagement to Conclude in Mid-Summer
At present,
The Crucible
is scheduled for a limited engagement to run until July 17, 2016. The official opening night is scheduled for March 31, 2016. The show was originally scheduled to begin previews on February 29, 2016, but was moved by one day to March 1, 2016 to allow its star, Saoirse Ronan, to attend the Academy Awards in Los Angeles. The last major revival of
The Crucible
in the English speaking world took place in London's West End in 2014, when it was nominated for the Olivier Award for Best Revival. With this cast and creative team, the 2016 Broadway revival seems to be a strong contender for the Tony Award for Best Revival as well, as well as several other awards for both performance and design.
Discount Broadway Tickets
---
---