"The Country House" Closes on Broadway
The Country House, Starring Blythe Danner Played Its Final Performance On Broadway On November 23, 2014. It Lasted A Full Run Despite Poor Reviews.
---
A Limited, But Extended, Run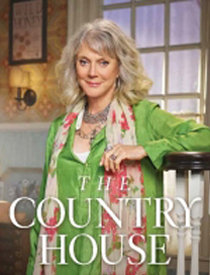 On September 9, 2014, The Country House began previews at the Manhattan Theatre Club's Broadway venue, the Samuel J. Friedman Theatre. The show had its official opening on October 2, 2014. Yesterday, November 23, 2014, the show played its final performance of the run.
Though the show opened to mixed reviews and consistently brought in less than remarkable results at the box office, it extended from its originally announced closing date of November 9, 2014.
MTC Unique Advantage As Not-For-Profit Theatre
If this were a normal commercial Broadway production mounted by independent commercial producers, then the show would have been likely to close early, rather than to extend.
However, as MTC has a unique advantage by being a not-for-profit theatre institution with the capacity to produce on Broadway, it is able to rely on its endowment as well as its base of subscribers to sell a certain number of tickets, as well as to float through financial losses. The only other organization that rivals MTC in this advantage is the Roundabout Theatre Company, which has three venues on Broadway: the American Airlines Theatre, Studio 54, and the Stephen Sondheim Theatre.
Blythe Danner As Anna Patterson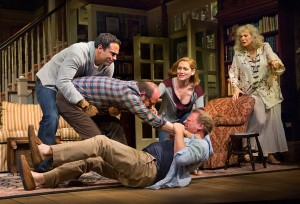 In The Country House, Blythe Danner stars as a woman named Anna Patterson, a glamorous actress who is frustrated by the tensions of a play she is in at the Williamstown Theatre Festival in rural Massachusetts.
The play is written by Donald Margulies, an MTC regular whose past works have included Time Stands Still, Brooklyn Boy, and Sight Seen. The director was Daniel Sullivan, who has helmed such Broadway productions as The Snow Geese, Orphans, Glengarry Glen Ross, The Columnist, and The Merchant of Venice.
The Talented Cast Of "The Country House"
Starring alongside Blythe Danner were Kate Jennings Grant (The Lyons), Eric Lange, David Rasche (To Be or Not To Be, Getting and Spending), Sarah Steele (Off-Broadway's Russian Transport), and Daniel Sunjata (Macbeth, Cyrano de Bergerac).
The play transferred to Broadway after a successful run at Los Angeles' Geffen Playhouse where its world premiere occurred on June 11, 2014. Almost the entire cast, including Danner, traveled with the show from LA to New York.
A Semi-Flop, But Good Enough
It is a sad state of the industry that a play that receives consistently mediocre reviews can still be produced on Broadway, simply due to the experience of the writer and director, as shepherded by an established theatre institution, as well as the simple name of one famous actor headlining the cast.
In this case, Donald Margulies has had some great successes, but The Country House is not truly one of them. However, an organization like MTC would rather turn to a tried and true writer with an uninteresting new play, believing they can satisfy their subscriber base and continue to appear cutting edge.
Struggles With Internal Bureaucracy
However, the reality is that it is the least innovative approach the organization can take, and they are faced with their own kind of internal bureaucracy. It appears that it is actually up to independent producers to blaze through the established norms to try out daring productions such as The River and One Man, Two Guvnors, which manage to fly on their own merits.