'The Book of Mormon' Inks Deal with StubHub.com
The Book Of Mormon Begins New Partnership With StubHub With Hopes Of Offering Premium Broadway Tickets To A Previously Untapped Market.
---
"The Book Of Mormon" Utilizing New Broadway Ticket Marketplace
The Book of Mormon now officially sells tickets on StubHub.com. Since its opening in 2011, the Broadway production of The Book of Mormon has been selling out its houses at the 1,006 seat Eugene O'Neill Theatre. With rampant demand for the satirical musical written by South Park creators Trey Parker and Matt Stone, along with Avenue Q writer Bobby Lopez, the show has regularly seen premium ticket prices as high as $477.
The show's lead producers Scott Rudin and Anne Garefino have often been at the cutting edge of strategies to maximum their ticket revenue, utilizing dynamic pricing to vary ticket prices throughout the house in line with demand. As of just week ago, they have announced a new partnership that changes the game for the Broadway ticket marketplace: they will now sell tickets on StubHub.com.
Secondary Ticket Marketplaces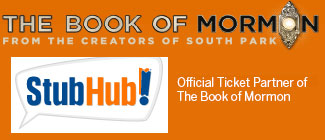 StubHub.com, an online ticket marketplace owned by eBay, has grown from America's largest secondary-market ticket marketplace to the world's largest ticket marketplace.
The secondary market for tickets refers to when tickets are re-sold, often at a higher amount than their original price, especially when the primary ticket sellers have sold out their inventory. Another example of a secondary-market ticket site is TicketsNow.com, which is an acquired subsidiary of Ticketmaster.
"The Book Of Mormon" Makes Unprecedented Move
Ticketmaster often redirects its customers to TicketsNow.com when the original inventory is sold out, which is effectively the same thing as selling tickets at a higher price through the same outlet. Critics of secondary market ticket sites consider them to be just another form of scalping, and thus the legality of such sites is often questioned.
In an unprecedented move for Broadway, The Book of Mormon has decided to utilize StubHub.com as another outlet to sell their higher priced premium tickets. In this way, StubHub will not be functioning as a secondary ticket marketplace, but rather a primary ticketing outlet.
Telecharge.Com Considered Primary Ticketing Outlet For Broadway Shows
Presently, the primary ticketing outlet for Broadway shows is more often than not Telecharge.com, which is owned by the Shubert Organization, one of the major Broadway landlords. Therefore, this decision will present StubHub as a direct competitor to Telecharge. It is common for producers to turn to additional outlets to help move their inventory, yet this is generally done in the form of discount ticket sales.
When sales are slow for a certain show, producers will often offer lower priced tickets either by direct mail to potential ticket buyers' homes, or through online promotions by email or on websites. However, the decision to sell premium seats for this hot-ticket show specifically through StubHub is an interesting maneuver, especially as the StubHub customer base may not be accustomed to seeing theatre options on the site.
Broadway Option For New Audiences
StubHub's biggest business comes from the music and sports industries, and this will present a Broadway option to this largely untapped audience. On the other hand, the advantage from StubHub's point of view is that it will help shift their reputation from that of a glorified online scalper to a more legitimate ticket sales outlet.
In any case, this novel approach presents an interesting dilemma for the Shuberts, who own Telecharge.com. If premium tickets can be sold directly though secondary outlets commonly known for scalping tickets, there is a grey area between the primary and secondary market ticket outlets that had not previously existed for the Broadway marketplace.
New Avenue For Premium Tickets
If they neglect the opportunity to invest in secondary outlets, like Ticketmaster did with TicketsNow, then they might very well be losing profits in the long run. Still, for now, The Book of Mormon's new partnership will be a noteworthy case study to see if the StubHub customer base opens up new avenues for premium Broadway ticket sales.