"The Band's Visit" Musical Begins on Broadway
The Band's Visit, A Musical About An Egyptian Band Bonding With A Small Israeli Town, Begins Previews On Broadway, Following An Off-Broadway Production.
---
Katrina Lenk And Tony Shalhoub Star In New Musical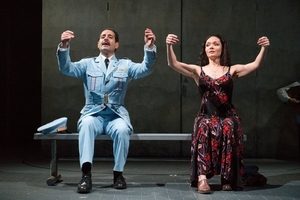 Today, October 7, 2017, The Band's Visit begins previews at Broadway's Ethel Barrymore Theatre, ahead of an opening night scheduled for November 9, 2017. This new musical had its world premiere Off-Broadway at the Atlantic Theatre Company in New York City in December 2016.
Following that production's great success, including the Obie Awards for Musical Theatre and Directing, the Drama Desk Awards for Outstanding Director, Lyrics, and Music, and the Lucille Lortel Awards for Outstanding Musical and Outstanding Lead Actress in a Musical for Katrina Lenk, the decision was made to transfer the show to Broadway.
Critically Acclaimed Playwright
The Band's Visit has a book by Itamar Moses, the acclaimed playwright of such Off-Broadway works as Completeness, Bach at Leipzig, and Nobody Loves You, and it is based off the screenplay by Eran Kolirin, whose 2007 Israeli film is the show's source material. The music and lyrics are by David Yazbek, whose composing credits include Women on the Verge of a Nervous Breakdown, Dirty Rotten Scoundrels, and The Full Monty.
The production is expertly directed by David Cromer, an accomplished director whose Broadway credits include A Raisin in the Sun, The House of Blue Leaves, and Brighton Beach Memoirs. The cast is led by Katrina Lenk (Indecent, Once, Spider-Man: Turn Off the Dark), alongside Tony Shalhoub (The Price, Act One, Golden Boy, Lend Me a Tenor, "Monk").
A Talented Cast
Joining Lenk and Shalhoub, both of whom originated their roles in the Atlantic Theatre Company production, are Adam Kantor (Rent, Fiddler on the Roof) as the Telephone Guy, George Abud (The Visit) as Camal, Bill Army (Act One, Relatively Speaking) as Zelger, Etai Benson (Wicked) as Papi, John Cariani (Something Rotten!, Fiddler on the Roof) as Itzik, Andrew Polk as Avrum, and Rachel Prather as Julia.
An Uplifting Story About An Egyptian Band In An Israeli Town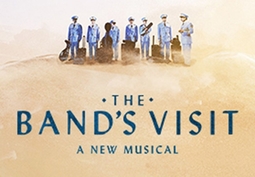 Like another musical currently running on Broadway, Come From Away, The Band's Visit is about a group of outsiders arriving accidentally into a town where the citizens, despite a cultural divide, end up welcoming them in.
Despite certain parallels, however, The Band's Visit is an entirely unique show. This funny and affecting show is about the electricity that sparks when planets collide, and the accidental international relations that can take place on a micro scale, showing hope for macro-level easing of tensions.
A Beautiful Story And Moving Score
Above all, however, The Band's Visit is a beautifully crafted story with a moving score. It is the story of an Egyptian military band that has been invited to perform in the Israeli town of Petah Tikvah, near Tel Aviv, but an error in the travel booking leads them to a much smaller, remote town with a similar sounding name.
Thus they find themselves in the backwater of the Negev desert, forced to seek hospitality from locals who are far from friendly upon their initial arrival. Tony Shalhoub plays Tewfiq, the band's director, and Katrina Lenk plays Dina, an Israeli woman living a stifling existence at the time the band shows up in her town.
Itamar Moses Shines
As time goes on, the two groups form an unexpected bond, and Itamar Moses' sharp writing adds a wistful dimension, which is beautifully wrought through David Yazbek's Middle Eastern accented music. At its heart, The Band's Visit is a story about people who have not yet had the chance to cross over to share in others' joy and pain, learning how to do so for the first time. The show is currently scheduled for an open-ended run.