Steve Martin's "Meteor Shower" Earns Mixed Reviews
Meteor Shower Opened To Mixed Reviews, But Amy Schumer And Steve Martin Are Still Major Box Office Draws And Sales Are High.
---
Amy Schumer's Broadway Debut Doesn't Match The Hype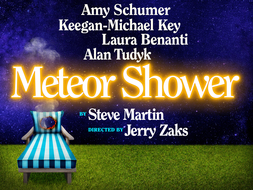 On November 29, 2017, Meteor Shower had its official opening night at the Booth Theatre, where it had been running in previews since November 1, 2017.
This new play by Steve Martin (co-writer and composer of Bright Star) stars comedic legend of the moment Amy Schumer (Inside Amy Schumer, Trainwreck, Snatched) in her Broadway debut, alongside fellow comedian Keegan-Michael Key (Key and Peele), and Broadway vets Laura Benanti (She Loves Me, Women on the Verge of a Nervous Breakdown, Gypsy) and Jeremy Shamos (Noises Off, The Assembled Parties, Glengarry Glen Ross).
Broadway Debut Buzz
The show is moreover directed by Jerry Zaks, the helmer behind Hello, Dolly!, A Bronx Tale the Musical, Sister Act, and many more. With such a stellar cast and creative team, with most of the buzz owing to Amy Schumer's name on the marquée, the show racked up a record-breaking advance, taking in over $1 million in the first day tickets were on sale, bringing in over $8 million by the time the curtain went up on the first preview.
Nevertheless, though ticket sales remain strong, this show brought in less than rave reviews, which may call into question the play's box office power in its remaining weeks before the currently scheduled closing date of January 21, 2018.
Mixed Reviews From The Major New York Critics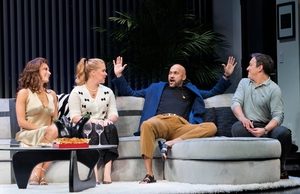 In his review of Meteor Shower, Jesse Green from The New York Times admitted the production was "slick" and the play was "definitely funny," but then qualified this response by stating that it's not quite a "laugh riot." Rather, it's too abstract for that, so it's more of a "laugh demonstration."
Green critiqued Martin's ability to maintain his characters' integrity while also developing his comedy and big ideas.
Critics Weigh In
Meanwhile, Marilyn Stasio from Variety was even less forgiving. While she compliments Schumer's "exuberant performance" and Martin's knack for "surreal comedy," but then concludes that clever lines can only do so much, and at a certain point, due to a lack of thought and direction, this "lightweight comedy" just gives up and implodes on itself.
Jeremy Gerard from Deadline was much more complimentary, calling Schumer "sensational," the play an "80-minute killer stretch," and deems the work one of the "funniest, and wildest, games of social and sexual one-upsmanship. Allison Adato from Entertainment Weekly was more on the fence; while she called it a "very funny play," she also admitted it is not a "substantial play." She compared its sketch sensibility to Saturday Night Live, but remarked that it's shorter than one, and also about utterly loathsome people.
Nevertheless, David Rooney from The Hollywood Reporter also had no time for this play, stating that it's impossible to "disguise the lack of substance" with this "padded sketch material."
Nevertheless, Box Office Continues to Thrive
Despite these mixed reviews, it appears that there is no stopping the box office for Meteor Shower. In addition to its phenomenal advance, the weekly box office figures continue to astound. In the last reported week of box office figures, the week ending November 26, 2017, Meteor Shower brought in a weekly gross of $1,011,810, which was its highest weekly gross to date.
This figure represents 105.18% of the show's gross potential. With a top ticket price of $348, the average paid admission was $166.58, and the audience capacity was filled up to 98.1%. Over the course of the run thus far, the average percentage reached of gross potential has been 104.70%.
Stars Propel Forward
While it's possible that some of these mixed to negative reviews may deter those considering making a future purchase, the truth is that a bulk of these ticketbuyers are merely stoked to see Amy Schumer on stage, and it may even be beside the point whether the play or production are well-reviewed.
Besides, with such a high advance, most of the following weeks are already pre-brought, so it is likely box office will remain strong throughout the rest of the run.