Steve Jobs Bill Gates Musical "Nerds" Cancels Broadway Run
Nerds has cancelled its Broadway run just weeks before performances were scheduled to begin due to financial difficulties.
---
Loss of Major Investor Leads to Indefinite Postponement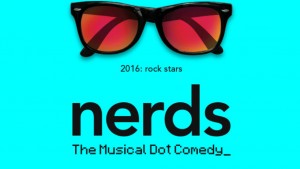 Nerds: A Musical Dot-Comedy
was scheduled to being Broadway previews on April 1, 2016, with an opening night of April 21, 2016, to run for an open-ended engagement at the Longacre Theatre. However, this past Tuesday, just weeks before the performances were scheduled to begin, it was announced that the Broadway run would not be taking place. The producers are calling this a postponement, rather than a cancellation, but they have given no hint as to when the supposed future Broadway run would occur. The reason provided was vague, only that a major investor had pulled out of the production. This could very well be true, but the fact is that the production was having difficulty raising their capitalization to begin with. They had announced their Broadway run prematurely, before financing or even casting had been confirmed, merely because the Longacre Theatre had opened up. One of the most difficulty commodities for a Broadway show to come to fruition is often the availability of a Broadway house, as there are usually more shows vying for theatres than theatres available. In this case, the musical
Allegiance
closed precipitously on February 14, 2016, after 37 previews and 111 regular performances. The producers for
Nerds
therefore leapt at the opportunity to fill the vacant house, but it has now been shown that they leapt too soon.
The Long Journey for this Musical about Bill Gates and Steve Jobs
Nerds
first premiered in 2005 at the New York Musical Theater Festival (NYMF), and positive buzz there led to a series of regional productions. In 2007, the show played at the Philadelphia Theatre Company, where it earned the Barrymore Awards for Outstanding Original Music and Outstanding New Play. It then returned to that theatre in 2013, following a run at the North Carolina Theatre. The material is arguably timely, with the still-recent passing of Steve Jobs, and the constantly increasing obsession with Apple in American culture, and so the producers were eager to find new audiences for the show. Carl Levin came on board as lead producer for the Broadway run. Levin has had his biggest success with
Rock of Ages
, which was a sleeper hit that ran on Broadway from 2009 to 2015, and was adapted into a starry Hollywood film, and also spent a lot of time on the road across the world. He brought on board to produce with him Vicki Halmos, Elizabeth Williams, Greenleaf Productions, and Clear Channel Spectacolor. It is unclear if it is one of these co-producers who dropped out, or perhaps one of their major investors who was not to receive billing, or perhaps that the collective efforts of these individuals was just not enough to raise the capitalization.
Cancelled During Rehearsal, and a National Tour in the Works
The show was already in rehearsal when the news broke that the Broadway run would not take place. This is an extreme disappointment for the cast, who had booked this show, perhaps missing out on other opportunities. It is also unfortunate that a lot of money was spent that will be in vain. The cast was to include Rory O'Malley (
The Book of Mormon
) as Bill Gates, and Bryan Fenkart (
Memphis
) as Steve Jobs. The director was going to be Casey Hushion, and the choreographer was Josh Bergasse. Upon announcing the cancellation, the producers alluded to a national tour in the works. It is unclear if the same cast will remain with the show on tour.