Stars of Broadway's Matilda To Be Given Tony Honors for Excellence
The Tony Awards Administration Committee Met To Discuss Eligibility Issues For Certain Broadway Shows For The Upcoming Tony Award Ceremony
---
Eligibility Issues For Hit Broadway Musical "Matilda"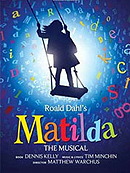 This past week the Tony Awards Administration Committee came together to determine various eligibility issues concerning shows from this Broadway season. One of the most anxiously awaited rulings was whether or not the four young performers who alternate in the title role of the musical Matilda will be eligible to share a Best Performance by an Actress in a Musical nomination.
But though Billy Elliot had set a similar precedent when its three stars were nominated (and won), the committee decided not to allow Matilda's Milly Shapiro, Oona Laurence, Sophia Gennusa, and Bailey Ryon eligibility in the Best Actress category. Instead, the quartet will be given Tony Honors for Excellence in the Theatre because the committee felt that the young ladies deserved recognition for their "outstanding performances".
Four-Way Tony Win
This makes the Royal Shakespeare Company (RSC) - Who developed the show - and Dodger Properties (The Producer of the show on Broadway) very happy as they can take this four-way Tony accolade all the way to the bank by squeezing the marketing juice out of this guaranteed honor pre and post Tony's, making it unlike any other Tony award given this year.
Other decisions made by the committee included declaring Orphans eligible for Best Revival of a Play (even though it didn't previously appear on Broadway), disallowing the Motown score award eligibility, and deciding that neither Manilow on Broadway nor The Rascals will be eligible for nomination. Most of the other decisions involved whether certain performers would be eligible in Leading or Featured acting nominations.