Stage Stars Uncover Shakespeare
In A New Special By PBS Broadway Performers And Celebrities Will Come Together To Share The Brilliance Of Shakespeare In Shakespeare Uncovered
---
Broadway Performers Featured In New PBS Special "Shakespeare Uncovered"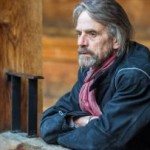 The new PBS special Shakespeare Uncovered features several esteemed stage performers and directors exploring the genius of William Shakespeare, still regarded as the English-speaking world's greatest playwright after 400 years.
Combining biography, history, play analysis, actual performances of the text, and personal thoughts by the series' various celebrity hosts, Shakespeare Uncovered is designed to share the brilliance of Shakespearean theater with new generations.
Celebrity Cast
In Shakespeare Uncovered, Ethan Hawke takes on Macbeth, Derek Jacobi shows audiences the power of Richard II, Jeremy Irons talks about Henry IV and Henry V, David Tennant tackles Hamlet (which he recently played to acclaim on the London stage), Trevor Nunn reveals The Tempest, and Joely Richardson looks at Shakespeare's beloved comedies.
To find out more about Shakespeare Uncovered and to view entire episodes online, visit video.pbs.org/program/shakespeare-uncovered.