"Springsteen on Broadway" Solo Concert Begins
Bruce Springsteen Has Begun Performances For His Intimate Broadway Solo Concert At The Walter Kerr Theatre, Which Runs Until February 2018.
---
The Boss Takes Over The Walter Kerr Theatre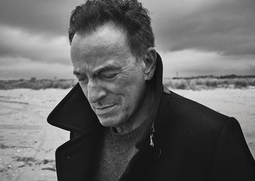 On October 3, 2017, Springsteen on Broadway began its first preview at the Walter Kerr Theatre, ahead of the opening night scheduled for October 12, 2017. This solo concert is the first time Bruce Springsteen, the legendary, 20-time Grammy Award winning music icon, has performed on a Broadway stage.
The Walter Kerr Theatre, with less than 1,000 seats, will be a much more intimate venue for Springsteen fans to see the singer up close and personal, in comparison to his usual stadium sell-out shows.
Pure Bruce Springsteen
Playing five shows a week, the run will continue until February 3, 2018, having been extended to that date from a previously announced shorter engagement. The show entails merely Bruce Springsteen, unadulterated and pure, performing alone with a guitar and piano.
Following the arc of his life, the show incorporates both songs and spoken word, presenting an array of songs from his life's work in generally chronological order, along with some context from the man himself. Unlike a high-tech stadium concert, the intent with this evening is to communicate some lessons from this beloved performer, while providing for an entertaining evening.
15 Hit Songs On The Broadway Set List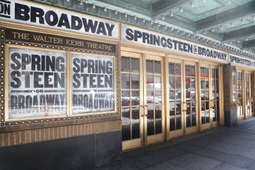 The Broadway concert from Bruce Springsteen incorporates some of his most beloved tunes. Starting off with "Growin' Up," a song from his 1973 album Greetings from Asbury Park, N.J., the evening begins with some background of his adolescence as a rebellious teen growing up in New Jersey. Next up is "My Hometown," a single from Springsteen's album Born in the U.S.A., which incorporates stories about his father and his pride in his hometown. Third is "My Father's House," from the 1982 album Nebraska, a beautiful song with lyrics describing his father's house. Next up is "The Wish," from the 4-disc box set Tracks released in 1998, followed by "Thunder Road," from his 1975 breakthrough album Born to Run.
Springsteen Classics
That song describes a young woman named Mary and her boyfriend, as they face their last chance to "make it real." The next songs are "The Promised Land," from the 1978 album Darkness on the Edge of Town, "Born in the U.S.A.," the title track from that 1984 album, and "Tenth Avenue Freeze-Out," also from the album Born to Run.
In addition, the show includes "Tougher than the Rest" and "Brilliant Disguise," both from the 1987 album Tunnel of Love. Next up is "The Ghost of Tom Joad," the title song from that 1995 album, "Long Walk Home," from the 2007 album Magic, and "Dancing in the Dark," one of his most famous songs from Born in the U.S.A. Finally, the show concludes with "Land of Hope and Dreams," from the 2012 album Wrecking Ball, followed by the closing number, "Born to Run."
Also Includes Springsteen Reading Excerpts From Autobiography
In between these songs, Springsteen also reads excerpts from his autobiography, Born to Run, which was published in September 2016. That book quickly rose to the top of the New York Times Bestseller list, and was followed by a book tour, which Springsteen had throughout last fall.
To supplement these excerpts, Springsteen has also written some additional reminiscences to include in the Broadway performances. Given Springsteen's extraordinary success and enormous fanbase, tickets are not easy to come by. Following the trend also adopted by Hamilton and the upcoming Broadway production of Harry Potter and the Cursed Child, Springsteen on Broadway also offers a Verified Fan ticketbuying program.
Re-sale Market Skyrockets
Through this scheme, fans can register to buy tickets ahead of others by verifying their fan status, and more importantly, the fact that they are not a ticketbuying bot intending to resell their tickets. Nevertheless, the re-sale market has skyrocketed already for this show, with tickets available for over $1,000 on stubhub. The show runs until February 3, 2018, and tickets will only become more difficult to get as time goes on.