Springsteen Extends; "M. Butterfly" Closes Early
Springsteen On Broadway Extends Until End Of June, And Julie Taymor'S Revival Of M. Butterfly Closes At The End Of This Week.
---
Bruce Springsteen Extends His Tenure For Four Months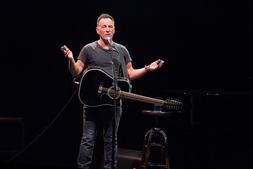 When Springsteen on Broadway began on October 3, 2017, the solo concert show was scheduled to play five times per week until its closing date on November 26, 2017. That engagement sold out within a day.
When the show then extended until February 3, 2018, this 20-time Grammy Award winner was still a slam dunk at the box office, once again selling out his entire run in the blink of an eye. Even though Springsteen was new to Broadway, he quickly got comfortably at the Walter Kerr Theatre.
Unstoppable Demand
Given his vast success, the musician has announced that he will extend his Broadway tenure for another four months, with the closing date now scheduled for June 30, 2018. In the meantime, he will take a hiatus from February 3 to 28, 2018, so the additional four months include March, April, May, and June.
For the original run of the show, tickets were sold through Ticketmaster's Verified Fan program, which involves a required registration for ticketbuyers. As that registration was so popular, an additional registration will not be required for the extended four months. In fact, no additional individuals will be allowed to register; only those who registered the first time but were unable to buy tickets will be allowed to purchase tickets for these new shows.
Tickets On Sale Soon
Tickets go on sale for this new block of performances on December 19, 2017. After that date, fans will also be allowed to enter a digital lottery for tickets through Lucky Seat. This autobiographical concert with excerpts of memoir may not have received unanimously positive reviews, but fans have never doubted "the Boss" for a moment, and tickets have been continually scarce.
"M. Butterfly" To Close Early This Sunday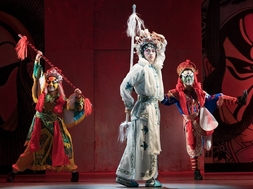 While Springsteen extended and extended again, M. Butterfly has had a very different fate. When the show began performances, it had not yet announced a closing date, optimistically thinking it might be a runaway hit.
It then announced closing for February 25, 2018. However, after sales proved to be continually dismal, this closing date was moved up by six weeks, and it was announced that the last performance would be on January 14, 2018.
Final Performance Announced
Nevertheless, with yet again disappointing sales, the show has given up its last hope and decided to close even before the Christmas and New Year's holidays, which are traditionally very lucrative days on Broadway. Officially, the final performance for M. Butterfly, written by David Henry Hwang in a revival directed by Julie Taymor, will be this upcoming Sunday: December 17, 2017.
At the time of its closing, the show will have played just 60 regular performances on top of the 19 previews. Over the course of the run to date, not including the last week of performances whose figures have not yet been reported, the show has brought in an average of 59.20% of its gross potential.
A Modern Classic Missed The Mark
Over the past three weeks, these numbers have been the worst of the run, averaging in the low 40% range of gross potential. When the show opened on October 26, 2017, the reviews were all around negative, with Ben Brantley from The New York Times joking that maybe it should have been called "M. Moth."
Unfortunately, while this play is considered a modern classic, the revision to the script for this revival was largely considered a backtrack, led by the counsel of the director Julie Taymor. While Taymor is famous and celebrated for her unstoppable hit The Lion King, she has since had worse luck, first with the infamously injurious Spiderman: Turn Off the Dark, and now with this disastrous de-canonization of M. Butterfly. This revival starred Clive Owen and Jin Ha.