Spring Training Comes Early for the Yankees on Broadway
---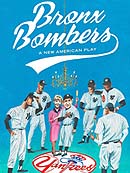 It's early yet for baseball season, but fans of America's great past time can get a little taste of the game on the Broadway stage over at the Circle in the Square Theatre, where the new play
Bronx Bombers
opens tonight. Written and directed by Eric Simonson, the play focuses on one of the sport's most famed franchises, the New York Yankees.
Bronx Bombers
, which was first seen Off-Broadway at Primary Stages last year, takes audiences on a trip through Yankees history by looking at the team through the eyes of one of its icons, Yogi Berra. Actor Peter Scolari plays Yogi opposite his real-life wife Tracy Shayne as Yogi's wife Carmen. Christopher Jackson, Keith Nobbs, Bill Dawes, Henry Coffey, Francois Battiste, John Wernke, and C.J. Wilson co-star. Babe Ruth, Joe DiMaggio, Mickey Mantle, Lou Gehrig, and Derek Jeter are among the New York Yankees legends who are represented onstage in
Bronx Bombers
as the show examines both the triumphs and the troubles that the team encounters over the years. For fans who can't wait for baseball season to start, this may be the ideal Broadway show to tide them over until spring training.