"Spring Awakening" Opens at the Brooks Atkinson Theatre on Broadway
A Deaf West Theatre Company Production Of Spring Awakening Opened Last Week At The Brooks Atkinson Theatre On Broadway, Bringing In Great Reviews From Critics But Mediocre Box Office
---
Profoundly Reconceived Revival of Duncan Sheik and Steven Sater Musical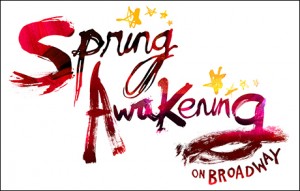 Following 23 preview performances, the Deaf West Theatre production of Spring Awakening officially opened this past week at the Brooks Atkinson Theatre. The musical, which has a book and lyrics by Steven Sater and a score by Duncan Sheik, and is based on a play by Frank Wedekind, premiered on Broadway not too long ago, in 2006, and closed in 2009. Though this may seem very soon for the revival of a recently new musical, this radically reconceived production, with its excellent reception from critics, has proven completely justified and not at all whiplash inducing.
In a co-production with Deaf West Theatre, which premiered this production in Los Angeles in September 2014, the Broadway revival incorporates a delightful blend of techniques used by this theatre company in the past, most notably in the 2003 production of Big River which came to Broadway and was nominated for the Tony Award for Best Musical. Like that show, this production of Spring Awakening utilizes both hearing and non-hearing actors, some of them doubling up for the same roles with one performer speaking in American sign language, and one performer shadowing them, singing and speaking out loud the lines and songs. In the case of the female lead role of Wendla Bergmann, the hearing actor (Katie Boeck) also shadows the non-hearing actor (Sandra Mae Frank) with a guitar.
Excellent Reception from Critics Far and Wide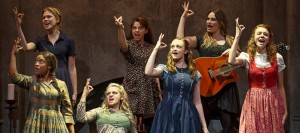 Charles Isherwood of The New York Times found this revival to be thrillingly inventive, beautifully performed like a symphony with the various sensory stimulations including American sign language, singing, dancing, speaking, and English translations being scribbled on the wall for the lines that are only signed. He says this sensory overload is what musicals do best, and in this case it just requires you to direct your attention in a different way. Jeremy Gerard of Deadline also loved the show, calling it transfixing and intoxicating, and deeming that it heightens the adolescent extremes of loneliness and kinship through this clever incorporation of deaf actors.
Mark Kennedy from the Associated Press found the show to be electrifying and elegant, adding new depth to a show that already deals with the themes of the difficulty to communicate. Matt Windman of AM New York admits that it may seem a bit soon to bring back Spring Awakening to Broadway, as it only closed seven years ago, but he agrees with his colleagues that the inspired nature of this production warranted a Broadway run. Robert Kahn of NBC New York also relished in the production, recalling that Lea Michelle and Jonathan Groff got the start to their careers in the original version of the show.
Broadway Box Office Hasn't Yet Caught Up With Critical Reception
In its three full weeks of previews that have been reported thus far, Spring Awakening has not made a large percentage of its gross potential at the box office. In the first week of previews, the week ending September 13, 2015, the show brought in $448,879, which represents 44.73% of its gross potential. With a top ticket price of $247.00, the average paid admission was $65.99, bringing it to an average audience capacity of 82.9%. In the second week, the show demonstrated a slight increase, bringing in $473,074, which represents 47.14% of its gross potential. That week, the average paid admission went up slightly to $70.52, but the average audience capacity when down even more slightly to 81.7%.
In the last reported week of performances, the week ending September 27, 2015, the show brought in even less, $375,985, which represents just 37.46% of its gross potential. However, that could be attributed to the complimentary tickets given to press outlets in the final week of previews leading up to opening, and hopefully with such positive reception, interest with catch on and these numbers may be going up in coming weeks. If not, that is proof that even if it's not too soon for a revival in terms of creative inspiration, that audiences may not be hungry enough yet for another run of Spring Awakening so soon.