"SpongeBob SquarePants" Earns Positive Reviews
Spongebob Squarepants Opened To Generally Positive Reviews, Despite Initially Low Box Office And Skepticism About The Premise.
---
Tina Landau Adapts Animated Sponge Show For The Stage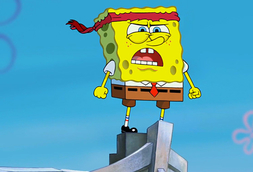 On December 4, 2017, SpongeBob SquarePants, a new Broadway musical, opened at the Palace Theatre, where it had been running in previews since November 6, 2017.
Based on the Nickelodeon animated television series of the same name, SpongeBob SquarePants was conceived and is directed by Tina Landau (Superior Donuts, Bells Are Ringing), with a book by Kyle Jarrow (A Very Merry Unauthorized Children's Scientology Pageant), and original songs by an incredibly diverse and accomplished group of musical artists.
A Diverse Musical Ensemble
These composers include Yolanda Adams, Steven Tyler, Joe Perry, Sara Bareilles, Jonathan Coulton, Alex Ebert, The Flaming Lips, Lady Antebellum, Cyndi Lauper, Rob Hyman, John Legend, Panic! At the Disco, Plain White T's, They Might Be Giants, T.I., Domani and Lil' C, David Bowie, Brian Eno, Tom Kenny, Andy Paley, and Tom Kitt.
The music was also arranged and orchestrated by Tom Kitt (If/Then, Orphans, Bring It On the Musical, Everyday Rapture). This new musical had its world premiere on June 7, 2016 at the Oriental Theatre in Chicago, receiving generally positive reviews, with Variety calling it an "inventive, diverting, decidedly promising musical" try-out, and the Chicago Tribune said it "might just be the yellow tonic that Broadway, and its fans across America, sorely need."
Broadway Reviews Are Generally Positive, Boding Well For Longevity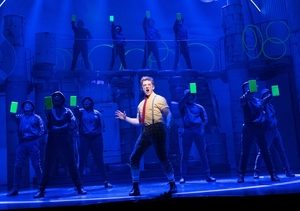 Upon the show's opening, the reviews tended towards the positive. Ben Brantley from The New York Times was one of the more tepid critics in terms of enthusiasm, but he did compliment both Ethan Slater's performance and David Zinn's sets as "capturing exactly the innocently idiotic spirit of the Nickelodeon television series," and also praised Tina Landau as "just the person for the job, never betraying the tone of instructive anarchy." Marilyn Stasio from Variety was even more laudatory, saying "Children should feel free to take their parents to Tina Landau's psychedelically inspired version of the whimsical kiddie cartoon show that's been making a fortune for Nickelodeon since 1999," complimenting Landau's stagecraft as "three-dimensional" and "boldly theatrical."
Stunning Visual Spirit
David Rooney from The Hollywood Reporter also loved this "eye-popping, psychotropic…musical fantasia about friendship and community," praising its "genuinely explosive moments" as the main accomplishment of the piece. Chris Jones from the Chicago Tribune was a bit more moderate in his praise, perhaps embittered that SpongeBob had moved on to a bigger playing field than its original try-out city.
Meanwhile, Christian Lewis from the Huffington Post deemed it an unqualified "hit," saying "you go in thinking it can't possibly be good, but during the show you are swept up and captivated, you dance along, you root for your favorites, you laugh and you smile." Matt Windman from AM New York also raved about the show, enjoying its "nautical nonsense" as well as its "energetic cast, psychedelic flair, and party atmosphere."
Box Office In Need of a Boost
In the last reported week of box office figures, the week ending December 3, 2017, SpongeBob SquarePants brought in a weekly gross of $583,037, which represented 48.97% of its gross potential. In the previous week, which included the Thanksgiving holiday, SpongeBob was among the family-friendly shows that saw an uptick due to the tourist traffic; that week it brought in a gross of $881,481, or 64.98% of its gross potential.
Nevertheless, over the course of the run thus far, the percentage reached of gross potential has averaged to just 52.85%, which is not excellent for a $13 billion retail empire. Nevertheless, these initially low grosses may be due to the same phenomenon as experienced by the Huffington Post critic, which is that it sounds so ridiculous that people don't expect to like it.
A Bright Future Possible
However, with these genuinely positive reviews, perhaps the skeptical will have their doubts assuaged and make their way towards the Palace Theatre before awards season makes this a tough ticket.