Spider-Man To Close Broadway Production January 4 2014
After A Three-Year Run On Broadway, Spider-Man Closes As Ticket Sales Dwindle Running At A Loss And Failing To Reach Profits
---
Three-Year Broadway Run Finally Closes For "Spider-Man"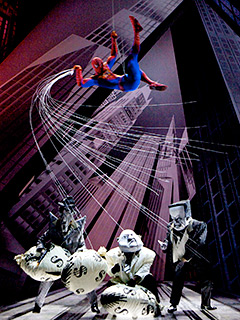 The saga of Spider-Man on Broadway is coming to an end, as producers have announced that the multi-millionaire dollar musical will be concluding its Broadway run on January 4, 2014. Though the controversial show will likely get a financial boost during the holidays (as do many Broadway musicals), it won't come close to making back its enormous investment by closing.
With direction by Julie Taymor (The Lion King) and a score by U2's Bono and The Edge, Spider-Man: Turn Off the Dark was initially expected to be a big hit.
Numerous Troubles And Overhaul
But Spider-Man experienced numerous troubles and delays during its development, going on to have a record-length preview period on Broadway, resulting in a significant overhaul of the show that included replacing both director Taymor and the original bookwriter.
In addition to creative troubles and an outrageous price tag, Spider-Man also made headlines for a series of injuries to its actors. Featuring incredible aerial stunts that include the actors flying over the audience in fast-paced fight sequences, Spider-Man took its cast to the limits of what had previously been seen in Broadway musicals in terms of acrobatics.
Three-Year Run Ends With Low Ticket Sales
Spider-Man: Turn Off the Dark, which plays at the large Foxwoods Theatre, made money for much of its three-year run, offering families the rare Broadway show that actively appealed to young male audiences. But ticket sales dipped in recent months. Some projected that the show would need to run at a profit for as many as 10 years before it could earn back its $75 million investment, meaning that the musical simply couldn't afford to run at a loss. Producers already have the next step for Spider-Man planned, though.
They will be taking a shorter version of the show to Las Vegas, where its comic book reputation, striking visuals, and big stunts are likely to draw audiences looking for a big-budget alternative to the Vegas Strip's many Cirque du Soleil shows.
Discount Broadway Tickets
---
---