"Skylight" and "Fish in the Dark" Recoup
Fish In The Dark And Skylight Both Recouped, Both Produced By Scott Rudin. Skylight Did Well At The Tonys, Winning Best Revival.
---
Tony Winning Revival "Skylight" Recoups Its Investment On Broadway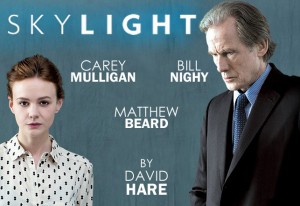 Among the shows this season that have earned enough profits to recoup their initial capitalization, Skylight managed achieved this crucial marker of success in the week before the Tony Awards.
The show has been running in previews since March 13, 2015 at the John Golden Theatre, and its official opening night was on April 2, 2015, after which it earned magnificent reviews.
Increase In Ticket Prices For "Skylight"
Skylight has been regularly bringing in grosses between $700,000 and $800,000 per week since this opening, with the highest weekly gross yet achieved this past week, the week ending June 14, 2015: $865,346. For the first time, the show broke through the 100% of gross potential mark, bringing in 100.85% of its gross potential with an average paid admission of $134.87.
Though it was not revealed what the initial capitalization was for this show, the producers Scott Rudin and Robert Fox have done well for themselves, as recoupment was announced on May 31, 2015. It may have helped that this week the highest paid admission was raised from $297.00 to $323.00, but it is nevertheless undeniable that audience members were keen to catch this show before its closing next week on June 21, 2015.
Tony Snubbed Play "Fish In The Dark" Also Recoups
Unlike Skylight, which recouped after earning rave reviews and significant recognition from the Tony committee, Fish in the Dark achieved this honor after earning none of the other accolades. Fish in the Dark, written by and starring Larry David, began previews on February 2, 2015, and opened on March 5, 2015 at the Cort Theatre.
This play has more than just financial success in common with Skylight; both plays are also produced by Scott Rudin, who certainly knows how to pick them. Fish in the Dark received a mixture of negative and blasé reviews, and it was not nominated for a single Tony award.
"Fish In The Dark" Achieves Financial Success Despite Tony Fails
However, Larry David still had the honor of presenting the Tony Award for Best Musical at the ceremony, alongside Jason Alexander who has recently replaced him in the starring role of Fish in the Dark. Despite a lack of success in the press and awards, the play achieved success in the way that ultimately matters most to producers: financial success. Recoupment was announced on May 20, 2015.
Although the producers would not specify what the capitalization was, Variety speculated that it was between $3 million and $4 million, due to the large cast and A-list talent involved. The highest gross achieved thus far by Fish in the Dark took place in the week ending June 7, 2015, the week approaching the Tony Awards, when it brought in $1,246,196, representing 119.73% of its gross potential. The top ticket price is a whopping $497.00, and the average paid admission that week was $142.98. Still, since Jason Alexander took over in the following week, grosses have significantly diminished.
"Skylight" Receives Seven Tony Award Nominations
Skylight was nominated for seven Tony Awards, but only won one; still this was arguably the most coveted of the awards for which it was nominated: Best Revival of a Play.
The other nominations it received were Best Performance by an Actor in a Leading Role in a Play for Bill Nighy, Best Performance by an Actress in a Leading Role in a Play for Carey Mulligan, Best Performance by an Actor in a Featured Role in a Play for Matthew Beard, Best Scenic Design of a Play for Bob Crowley, Best Lighting Design of a Play for Natasha Katz, and Best Direction of a Play for Stephen Daldry.
Larry David Wins Over Audiences
Daldry, who also directed the highly acclaimed and financially successful The Audience, was nominated just for Skylight. However, in this case the Tony voters believed that the whole was greater than the sum of its parts, for it won the Tony Award that sums them all up: Best Revival.
Fish in the Dark, on the other hand, received no Tony Awards, but made an even bigger splash at the box office with weekly grosses over $1 million every week in which Larry David appeared.