"Six Degrees of Separation" Begins Performances
John Guare'S Six Degrees Of Separation Has Begun At The Ethel Barrymore Theatre On Broadway Starring The Talented Actors Allison Janney, John Benjamin Hickey, And Corey Hawkins
---
Trip Cullman Directs Revival of John Guare Play on Broadway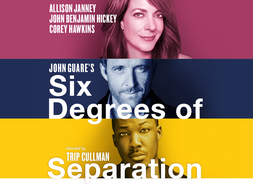 A new revival of Six Degrees of Separation has entered performances at the Ethel Barrymore Theatre. This play was written by John Guare in 1990, when it took home the Pulitzer Prize for Drama and was nominated for the Tony Award for Best Play. Exploring the premise that every person in the world is connected to everyone else by no more than six degrees of separation, the drama concerns a young black man named Paul who arrives at the Central Park side home of a wealthy white couple named Flan and Ouisa, explaining that he is a friend of their son from Harvard University, and that he has just been mugged and is in need of help.
Not everything is as it seems, but fortunately for Paul, the initial scheme was not the last of his tricks. This is the second time this play has been produced on Broadway, and it was adapted into a 1993 film starring Stockard Channing (who originated the role of Ouisa on Broadway) as well as Donald Sutherland and Will Smith. The 2017 Broadway revival stars Corey Hawkins (Romeo and Juliet) as Paul, Allison Janney (9 to 5, A View from the Bridge) as Ouisa, and John Benjamin Hickey (The Normal Heart, Mary Stuart) as Flan. The play is directed by Trip Cullman, an acclaimed Off-Broadway who also directed this season's Broadway production of Significant Other.
"Six Degrees of Separation" is One of Many Renowned John Guare Plays
In addition to the two productions of Six Degrees of Separation, John Guare has had 10 productions of his plays produced on Broadway. The first was a musical called Cop-Out, which was mounted in 1969, and which only lasted a week. In 1971, a musical adaptation of Two Gentlemen of Verona arrived on Broadway with the adapted book and new lyrics by Guare. His first original play to arrive on Broadway was Bosoms and Neglect in 1979, which also didn't last two weeks. In 1981, a musical revue called Sophisticated Ladies fared better, and Guare wrote the lyrics to some songs.
Finally, in 1986, his first real hit arrived: The House of Blue Leaves, which played for almost a year, and which was recently revived on Broadway in 2011. With the 1990 production of Six Degrees of Separation, however, Guare was finally a success. He also had uncredited contributions to the musical Kiss Me, Kate, wrote the book to the musical Sweet Smell of Success, and wrote the plays Four Baboons Adorning the Sun and A Free Man of Color. His signature comedic wit took some time for audiences to adjust to, and even then, is sometimes hit or miss. The 2011 production of The House of Blue Leaves did not receive very positive reviews, even though it starred Ben Stiller. However, Six Degrees of Separation is one of his most beloved works, and will hopefully fare better.
An Uphill Battle at the Broadway Box Office
Despite the renowned cast of Allison Janney, Corey Hawkins, and John Benjamin Hickey, in addition to the recognizable title and playwright, Six Degrees of Separation is not doing so well at the box office at this point. While the show is still in previews, it is struggling to make even half of its gross potential each week. In the last reported week of box office figures, the week ending June 16, 2017, the play brought in a weekly gross of $365,762 over eight performances, which represents 34.34% of its gross potential.
With a top ticket price of $197.00, the average paid admission was only $59.08, and the audience was filled up to 73.6% of its capacity on average. Upon the show's opening night on April 25, 2017, the reviews will determine the fate of this show's run. It is presently scheduled to close on July 16, 2017.
Discount Broadway Tickets
---
---