Six Broadway Shows Close on January 3rd Following Holiday Season
Six Broadway Shows Concluded Performances On January 3, 2016: Hand To God, Dames At Sea, Radio City Christmas Spectacular, The Illusionists, And Lord Of The Dance Dangerous Games
---
Tony Nominee "Hand To God" Ends Broadway Run and Heads to London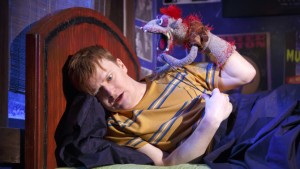 On January 3, 2015, Robert Askin's play Hand to God was among the group of Broadway shows that concluded their runs. Somewhat of a Broadway success story, Hand to God made the unlikely journey from repeated Off-Off Broadway runs at its origin home theatre, Ensemble Studio Theatre, followed by a well-received Off-Broadway run at MCC Theater's Lucille Lortel Theatre, and finally to Broadway's Booth Theatre, where it began performances on March 14, 2015. The show first caught national attention with its irreverent and unapologetic marketing scheme, which broadcasted: "No Movie Stars. No London transfer. No film adaptation… Pray for Us," riffing on the religious satire of the play's subject matter.
Although it did not recoup its $3 million capitalization during its almost 10-month Broadway run, Hand to God can still be considered a success on several fronts. First of all, the play was nominated for five Tony Awards, including Best Play, although it did not win any. Second, the show made waves through the critical circuit, praised far and wide for its strong comedic performances and biting thematic substance.
Broadway Play Transfers to London with New Cast
As a result, the play has transferred to London immediately following its closure on Broadway, where it has a chance of continuing to make progress towards recoupment. The London production, like the earlier incarnations, is directed by Moritz von Stuelpnagel, but the new cast includes Harry Melling (Dudley from the Harry Potter film franchise) and Jemima Rooper (One Man, Two Guvnors). The play will also tour the U.S. as well as other international locations.
"Dames at Sea" and "Sylvia" Also Conclude on January 3rd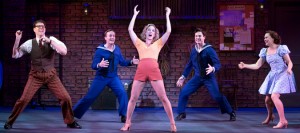 Among the shows that wrapped up performances on Sunday, January 3, 2016 are Dames at Sea and Sylvia, both of which concluded their limited engagements earlier than expected due to financial disappointment. Dames at Sea, a musical that began as an open-ended run, began previews on September 24, 2015 and opened on October 22, 2015 to mixed to negative reviews. A revival of the 1966 spoof of Busby Berkeley style shows from the 1930s, Dames at Sea held out for the Christmas and New Years holidays despite bringing in very low grosses averaging to just 30% of the show's overall gross potential over the 15 week run.
A.R. Gurney's play Sylvia also closed on January 3, 2016, despite the name recognition of its lead actors, Matthew Broderick (The Producers) and Annaleigh Ashford (Kinky Boots). Also opening to mixed reviews, Sylvia faced criticism for its fundamental device of casting a young woman as a dog, as well as a bland plot and uninteresting performances. Over the course of its almost 14 week run, the average percentage reached of gross potential was just 37.37%, with weekly grosses almost never cracking the $400,000 mark. The play was originally scheduled to close at the end of January, but poor ticket sales led the producers to close after just 79 performances on top of 27 previews.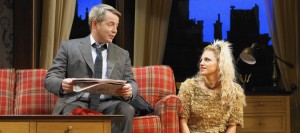 "The Illusionists," "Lord of The Dance," and "Radio City Christmas Spectacular" Also Shutter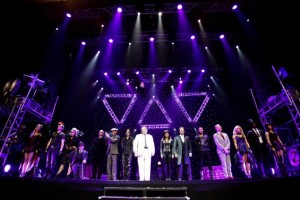 In addition, three spectacle-based shows concluded performances on January 3, 2016. The Illusionists is a magic show that returned to Broadway after its debut one year ago for an intended 7-week run. Though starting off with disappointing grosses, the show picked up in its final two weeks, bringing in $1,801,327 across an unusually high 13 performances in the final week. The penultimate week was also impressive, with a gross of $1,362,681 across 10 performances. Still, even at its best, the show only brought in 87.5% of its gross potential in any given week. Lord of the Dance: Dangerous Games is the Michael Flatley created Irish dance musical, which represented both Flatley's Broadway performance debut as well as his retirement from performing.
That fact seems to have held little resonance for American audiences, as the show brought in exceedingly low grosses throughout its run. Only in the final week did the show bring in over 50% of its gross potential ($870,337 across 9 performances in the massive Lyric Theatre), but generally its grosses were closer to 20% of their potential. Finally, the Radio City Christmas Spectacular at Radio City Music Hall ran from November 13, 2015 to January 3, 2016, encompassing the holiday season with its traditional Rockettes and Christmas themed entertainment. With the end of the holiday season ticket buying rush, many shows wrapped up performances to make way for the start of the spring season, which will pick up around March.
Discount Broadway Tickets
---
---