"Side Show" Begins Previews on Broadway
Side Show Began Previews At The St. James Theatre Starring Erin Davie And Emily Padgett As Daisy And Violet Hilton, The Performers From The 1930s.
---
"Side Show" Revival Takes A Modern Approach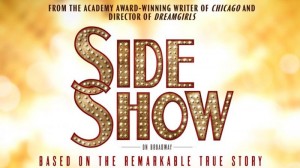 On October 28, 2014, Side Show began previews at Broadway's St. James Theatre. Official opening night is scheduled for November 17, 2014. This spectacle-filled musical about a freak show in the 1930s premiered on Broadway in 1997, running less than 4 months before it flopped and had to close.
This revival, however, has taken a different approach. Whereas the earlier advertising campaign had an old-fashioned picture of a 1930s side show with audience members eagerly wondering what lay on the other side of the curtain, in 2014 the producers have decided to up the Hollywood lights and portray the leading ladies – Siamese twins Daisy and Violet Hilton – more like Velma Kelly and Roxie Hart in Chicago, except conjoined.
Broadway Hit Based On A True Story
In fact, Side Show is based off a true story of real Siamese twin circus performers Daisy and Violet Hilton, who were also the subject of the 1932 pseudo-documentary film Freaks. The 1997 premiere, though closing early, earned four Tony Award nominations including Best Musical, Best Book of a Musical, Best Score, and Best Performance by a Leading Actress in a Musical (Alice Ripley as Violet), although it failed to win any.
Nevertheless, the musical has gained somewhat of a cult status since its original production, enough to warrant a glitzy revival.
Fresh Ideas And Music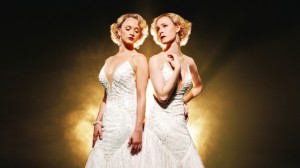 The musical has book and lyrics by Bill Russell (Call Me Madam, The Last Smoker in America) and music by Henry Krieger (Dreamgirls, The Tap Dance Kid). This production is directed by Bill Condon (Chicago the film, Dreamgirls the film, the Twilight film series), who also contributed new material to the revival.
Reportedly, the revised book focuses more on the principal storyline of the sisters searching for love in a world apparently set against them, and less on the supporting characters of the various freak show performers.
Cast And Creative Team
The lead roles of Daisy and Violet Hilton are respectively played by Emily Padgett (Rock of Ages, Grease, Legally Blonde) and Erin Davie (The Mystery of Edwin Drood, A Little Night Music).
Other cast members include Matthew Hydzik (West Side Story, Grease) as Buddy Foster, Robert Joy (Abe Lincoln in Illinois) as Sir, Ryan Silverman (Cry-Baby, Chicago) as Terry, David St. Louis (Jesus Christ Superstar, The Scarlet Pimpernel) as Jake, and many ensemble members playing multiple roles including other performers in the freak show.
Pre-Broadway Tryouts Were Successful
This updated production of Side Show had two pre-Broadway tryouts. From November 5, 2013 to December 15, 2013, the show ran at the La Jolla Playhouse in San Diego, California, directed by Bill Condon and starring Erin Davie and Emily Padgett. Then, from June 14, 2014 to July 13, 2014, the same production with the same leading ladies played at The Kennedy Center in Washington, D.C.
These two productions were successful enough to attract the attention of Broadway producer Darren Bagert, who assembled the producing team to raise the $7.8 million capitalization needed to bring this show to Broadway.
High Hopes For "Side Show" Revival
Although the 1997 production quickly flopped, there may be more hope for this revival. First of all, freak shows have recently re-entered the zeitgeist, thanks to shows such as American Horror Story: Freak Show.
Furthermore, this musical is so little known due to its previous failure that it may actually have the chance to reinvent itself anew in the minds of theatregoers. The verdict will be more determinable after reviews come out following the opening night of November 17, 2014.