"Shuffle Along" Earns Raves and Nominations
Shuffle Along Opened To Rave Reviews At The Music Box Theatre, And Received 10 Tony Award Nominations.
---
George C. Wolfe Reconceives 1921 Broadway Musical For Modern Sensibilities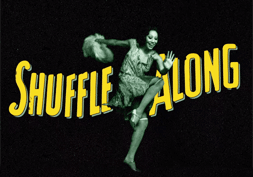 Shuffle Along, or the Making of the Musical Sensation of 1921 and All That Followed is reinventing what it means to revive a show on the Broadway stage.
Based on a 1921 musical revue called Shuffle Along, written by Flournoy Miller and Aubrey Lyles, with music and lyrics by Noble Sissle and Eubie Blake, this modern adaptation is more than an adaptation – it reinvents the songs and dance numbers of almost a century ago, while supplementing them with a new book (by George C. Wolfe) that address the legacy of this little-known but miraculously successful show.
Modern Adaptation Meets Classic Hit
In 1921, it was very difficult for a show not only with an all-black cast, but also with an all-black creative team, to find its way to Broadway – and yet, Shuffle Along succeeded, albeit at a theatre of "no consequence" on faraway 63rd Street, where they still managed to woo the likes of George Gershwin and other well-known Broadway figures to enjoy their show which ran for nearly 500 performances.
In pairing a new story with the re-visitation of an old one, George C. Wolfe, who wrote the book and also directed the musical, has added an exciting new concept to the Broadway landscape.
Tony Committee Rules "Shuffle Along" Is A New Musical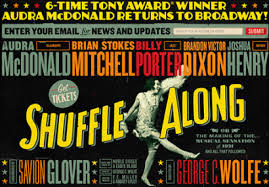 The presently running version of this show was a bit of an enigma for the Tony committee, which ultimately ruled it is a new musical, despite the producers' plea to consider it a revival, knowing that Hamilton is a shoe-in for Best Musical this year.
Nevertheless, Shuffle Along made out very well with the Tony nominations, earning 10 nominations including Best Musical, Best Book of a Musical, Best Performance for a Featured Actor in a Musical for Brandon Victor Dixon, Best Performance by a Featured Actress in a Musical for Adrienne Warren, Best Scenic Design, Best Costume Design, Best Lighting Design, Best Direction for George C. Wolfe, Best Choreography for Savion Glover, and Best Orchestrations for Daryl Waters.
Audra McDonald Wins In All Four Categories
Blatantly missing from this list are any nominations for their lead performers, including the much-lauded Audra McDonald, Brian Stokes Mitchell, and Billy Porter. Nevertheless, Audra McDonald holds the honor of being the only person to win an acting award in all four acting categories available to an actress – those for Best Lead and Featured Performance in both a Play and a Musical.
She has also won two Grammy Awards and an Emmy Award, and is therefore very close to the honor of being an EGOT, earning at least one Emmy, Grammy, Oscar, and Tony Award. Brian Stokes Mitchell won a Tony Award for Kiss Me, Kate in 2000, and Billy Porter won a Tony Award for Kinky Boots in 2013. Still, all three of their performances, especially that of Ms. McDonald, were widely praised by critics, and thus their absence from the nominee list is surprising.
Rave Reviews Across Broadway Critics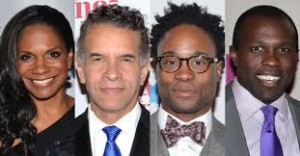 Ben Brantley from The New York Times calls the score "immortal" and the show "one of the season's essential tickets," remarking that George C. Wolfe's book feels the most stale of the show, but still that the overall musical is unmissable.
David Cote from Time Out New York calls it an "extraordinary showbiz excavation-renovation," deeming George C. Wolfe a "mastermind" for having conceived of it. Jeremy Gerard from Deadline praised Wolfe as well, deeming him the theatre artist with the sharpest mind, quickest wit, fastest mouth, and wildest imagination in all of NYC.
Recognition Hopes To Spur Broadway Buzz As Awards Season Approaches
Jesse Green from Vulture loved the show, comparing the explosion of this show onto Broadway to Hamilton, praising the singing, the choreography, and the entire idea of the production as absolutely revolutionary. Caitlin Brody from Entertainment Weekly also gave the show rave reviews, calling it a refreshing burst of energy. As for the box office, the show still has some room for growth, but this past week is a good sign of its high potential for success.
This past week, the week ending May 8, 2016, Shuffle Along brought in $924,352, the closest yet the show has come to reaching the one million dollar mark, which represented 87.94% of its gross potential. With a top ticket price of $373.00, the average paid admission was $118.95, and the average audience capacity was filled up to 100.9%. In sum, this show still could attract some higher ticket prices to reach its gross potential, and yet the awards recognition and strong reviews will continue to encourage strong word of mouth as we enter awards season.
Discount Broadway Tickets
---
---