Shubert Ticketing Passes 'Plum Benefits' Over To EBG's 'TicketsAtWork.com'
After Acquiring Plum Benefits, The Shuberts Have Announced A Merger With Ticketsatwork.Com Making A Step Forward For The Broadway Shopping Experience.
---
Plum Benefits Becomes Too Hard To Handle For The Shubert's
Plum Benefits is a leading corporate entertainment benefits provider that specializes in providing discounted attractions and events for company employees. Plum had a specific focus on Broadway shows in NYC, the stable from which it was born. For the past three years, Plum has been owned and managed by Shubert Ticketing.
This is a division of The Shubert Organization, a private organization owned by the Shubert Foundation, which is also the majority landlord on Broadway, owning 17 of the 40 Broadway theatres.
Merger Announced
After acquiring Plum Benefits (Formerly SVM Marketing) from its founder Shara Mendelson in 2011 for a reported $2 million in cash, the Shuberts have continued to run the company, apparently profitably.
As of April 2, 2014, they have announced a merger with TicketsAtWork.com, which is a similar business owned by Entertainment Benefits Group (EBG). Although it is technically a legal "merger," the resultant business appears to be more of a takeover as the new entity is largely managed by EBG, and key Plum employees are now employees of EBG. Oversight of the Plum Benefits brand has been passed from Shubert Ticketing to another Shubert sub-division, "Broadway Inbound."

Differences Between The Companies

The difference between EBG's Tickets-At-Work and Plum Benefits is that while Plum is based in the New York City area and specializes in promoting Broadway shows to Fortune 500 employers, Tickets-At-Work has a wider reach geographically and also has a significantly larger roster of major entertainment companies including theme parks, hotels, flights, and travel.
In addition, Plum Benefits has until now been using a link-off site transaction process, requiring users to purchase tickets outside of their platform. On the other hand, Tickets-At-Work uses an internal transaction process, offering a proprietary ticketing technology developed by EBG that only allows customers to buy tickets within their website.
Discount Codes No Longer Needed
The Shuberts, who are notoriously slow to adopt new technology and practices, have surprisingly provided a competitive advantage to EBG in terms of allowing Tickets-At-Work to engage in end-to-end transactional ticket sales using the Shuberts' own back-end data from Telecharge, something no other Broadway business has been allowed to do.
Tickets-At-Work has the unique and enviable position of no longer needing to use discount codes, and they are able to circumvent broadwayoffers.com completely, the traditional website that all other market players have been forced to use for online discount Broadway tickets.
Uncertainty In The Broadway Ticket Market
It's unclear if the Shuberts are just testing the waters with Tickets-At-Work and plan to roll out the ticket sales API to other Broadway ticket vendors, or whether they intend to keep this competitive advantage for their Tickets-At-Work relationship only.
It is also unclear how Broadway show producers feel about Plum and EBG's Tickets-At-Work having this logistical advantage over all the other players in the Broadway ticket market, especially given that EBG and Tickets-At-Work are outside the normal Broadway ticket sales channels.
Will Broadway Producers See An Increase In Ticket Sales?
It is yet to be seen if Broadway producers will see any real value in an increase in ticket sales from this merger. The new website for Plum Benefits looks largely identical to the existing Tickets-At-Work website, not only in terms of structure but also design, but now Plum clients are pitched a dizzying array of other products and services.
Plum Benefits is now called "Plum Benefits, powered by TicketsAtWork," but the IP address of the new PlumBenefits.com website is actually owned by EBG, further underscoring the fact that it is the latter who has the overall power in this relationship.
Clear Differences In The Advertised Activities
Despite the duplicate layout, the differences in the companies' specialties are clear by the activities that are advertised on each of their sections on the home pages: presently, Plum Benefits' section advertises Aladdin the musical, as well as Beautiful: The Carole King Musical, The Cripple of Inishmaan starring Daniel Radcliffe, and the jukebox 80s musical Rock of Ages.
On the other hand, the rest of the site is dedicated to Tickets-At-Work and promotes Walt Disney World, Universal Studios, Cirque du Soleil, and the recently much-maligned Sea World.
Plum Benefits Business Model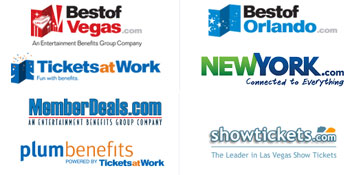 The business model for Plum Benefits had thrived for many years under Shara Mendelson's iron-fist rule. principally because it was a free service exclusively for employer corporations and organizations.
This is especially attractive as employers have been cutting back on "fringe" benefits in recent years, adding voluntary benefits made up for that void. Plum's revenue comes from fees paid by the producers of the entertainment events, so corporate members incur zero cost while producers pay for the promotional benefits of the service.
Restructuring The Organization
Therefore, it is surprising that the Shuberts would decide to share ownership of this cash-cow so soon after acquiring it themselves. Fortunately for them, the agreement provides that they retain rights to the name and trademark of Plum Benefits, and presumably take a fee from all transactions, though EBG conducts the business on their behalf.
At the ground level, they are erasing many roles within their organization, removing what they may have considered to be role redundancies. EBG has reported that the remaining Plum Benefits staff who manage the corporate clients are now employees of EBG.
A Step Forward For The Broadway Consumer
It is unclear whether the former Plum Benefits organization was failing to make sufficient profits, or whether there were some other logistical reasons for this merger/takeover decision. In any case, existing Plum Benefits customers can now enjoy a seemingly endless roster of entertainment options, as well as a streamlined booking process.
With a 19 hours a day, 365 days a year, dedicated customer service team and the seamless back-end ticketing technology that the Shuberts have allowed EBG to implement on their behalf, the Tickets-At-Work merger appears to be a step forward from the consumer perspective.
Shopping At Work
However, Plum Benefits' existing corporate client roster may balk at the multitude of new choices to which their employees now have access through the new relationship. HR departments are already very wary of being aligned with this new service, as their own employees and management approval may take interpret this as their HR department encouraging and approving of "shopping at work," something that corporate management is keen to avoid.
HR employees are very concerned about being seen as providing benefits and value, but not distractions, for their employees at work. The new Plum Benefits' site does not provide a method to switch off the multitude of offers, and employees are force-fed all these offers from the new partnership, often against their will.
Plum Will Focus On Other Entertainment Sales
What is missing from this model is the HR manager's desire, and discretion, to pick and choose what types of offers they want to provide to their employees and which ones they do not, which may mean many Corporations may jump ship to other solutions such as "Corporate Perks" by Nextjump or "Corporate Offers," which are more attuned to the HR division's needs.
With EBG and "Tickets At Work" primarily based in Aventura, Florida, it is clear that the bulk of the offers will no longer be focused on New York City and certainly not on Broadway shows. Plum will inevitably see a dilution of interest in Broadway show attractions, but an increase in overall income from its commissions from the other entertainment sales in this joint venture.
Overall Value To Each Organization

Broadway shows expect that their overall ticket sales will go down for Plum, even though the merger with TAW opens up their product to a lot more people, most of whom aren't in the NYC area. As such, any ticket sales will be "visitor" sales, something to which the Broadway producer has historically been able to sell full-price tickets, but they are now are stuck selling at a discount, even though they didn't ask for one.
Through this relationship, it is clear that EBG's Tickets-At-Work now has a great opportunity to pitch their endless wares to Plum Benefits' exclusive corporate club, and will no doubt see profit growth through this merger/takeover.
Shuberts Likely To Have Increased Revenue From Plum Benefits Division
The Shuberts' Plum Benefits, however, gets to deliver a wider product range to their existing client base and, in theory, will see increased sales of Broadway tickets. In reality though, sales of Broadway tickets may in fact go down (due to offer dilution) and their existing corporate client base may be confused and bewildered by the array of choice now available for their employees.
It is expected that the Shuberts will have increased revenue from the Plum Benefits division from the sales of non-Broadway products to their existing clients, making up for any losses incurred by a reduction in overall Broadway ticket sales.
No Comment From Either Party

Plum Benefits has opened up their corporate client base to peruse hundreds of other competing entertainment offers, something that does not seem wholly appropriate for the HR divisions of the various blue chip corporations, and this is also quite surprising given that the Shuberts' mission statement is to help develop Broadway Theatre. It appears that they may have instead sold out for cash, or at least a commission on the sale.
The merger of these two entities was the brainchild of Charles Flateman, the VP of Marketing for Shubert Ticketing (formerly of Gray Line New York Sightseeing Tours and co-founder of Broadway Inbound) and Brett Reizen, EBG President and CEO. Both individuals are now board members of the newly combined organization and did not return calls seeking comment for this story.