Shia LaBeouf and Orphans Producers Reach Settlement
---
Following all of the gossip, a last minute replacement, and ultimately the early closure of the Broadway production of Lyle Kessler's play
Orphans
, the drama surrounding the production finally comes to an end as the show's producers reach a settlement with actor Shia LaBeouf.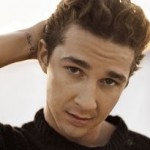 Originally cast in the three-character play, Shia LaBeouf clashed with co-star Alec Baldwin during play rehearsals, soon leading to the young actor's dismissal (he was quickly replaced by Ben Foster). LaBeouf filed a grievance with the Actor's Equity Assocation following the fracas, and now a settlement has been reached with the
Orphans
producers -- though the terms have not been disclosed. "We regret the circumstances that caused Shia's departure from
Orphans
," said producers Frederick Zollo and Robert Cole in a statement. "Shia is a gifted actor whose full preparation to undertake the role of Treat demonstrated his respect and devotion to the play. The parties recognize that neither Mr. LaBeouf nor the producers was at fault. We have the utmost respect for Shia and his acting abilities, and would welcome the opportunity to work with him in the future."