"She Loves Me" Opens to Rave Reviews
She Loves Me Opened To Rave Reviews At Studio 54, With Critics Thrilled This Revival Of A Lesser-Known Musical Hit Their Hearts.
---
A Roundabout Theatre Company Production At Studio 54 On Broadway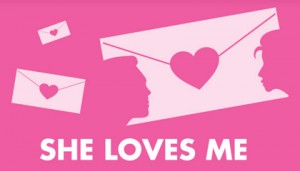 On March 17, 2016, an acclaimed revival of She Loves Me opened at Studio 54 in a Roundabout Theatre Company production. The show had been running in previews since February 19, 2016.
The musical first played Broadway in 1963, followed by the West End in 1964, and has since been revived once in each location, in 1993 and 1994, respectively. She Loves Me has a strong Broadway pedigree, as it has a book by Joe Masteroff (who also wrote the book for Kander and Ebb's Cabaret), along with a score by Sheldon Harnick and Jerry Bock (who also collaborated on Fiddler on the Roof).
"She Loves Me" Has Seen Several Adaptations Over The Years
Furthermore, it is based on a play called Parfumerie by Hungarian writer Miklós László, and has also been adapted into the 1940 film The Shop Around the Corner starring James Stewart and Margaret Sullivan, the 1949 musical In the Good Old Summertime starring Judy Garland and Van Johnson, and more recently, the 1998 film You've Got Mail by Nora Ephron starring Meg Ryan and Tom Hanks.
In this form, the story deals with two shop employees in Budapest in 1934 who do not get along at all, while at the same time, unbeknownst to either of them, they are carrying on a secret pen pal romantic relationship with one another. This production is directed by Scott Ellis and choreographed by Warren Carlyle.
Rave Reviews From Critics All-Around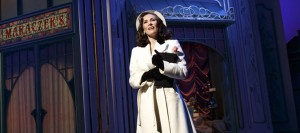 It is not an easy feat for a revival of a potentially-dated musical to win over critics unanimously. In this case, however, the Scott Ellis' production succeeds. Ben Brantley from The New York Times begins his review by referencing a song from the show about vanilla ice cream, remarking that sometimes vanilla ice cream can taste like sweet deliverance.
He goes on to call the production a rapturous revival that continuously reminds us of the "pleasures of exalted ordinariness." David Cote from Time Out New York was equally enchanted, especially enjoying the romantic chemistry between the lead performers Laura Benanti and Zachary Levi, and calling the book "witty" and the score "swoonworthy."
Charmed By Old-World Musical
Jeremy Gerard from Deadline is delighted by the charms of the unassuming Old World musical, proclaiming it a testament to craft and romance.
David Rooney from The Hollywood Reporter loved the production's effortless "buoyancy and sophistication," declaring that although it arrived a month after Valentine's Day, it sends a message straight to the heart. Jesse Green from Vulture declares himself a longtime She Loves Me devotee, calling it a nearly perfect 1963 jewel box, but was delighted that this production did not disappoint even with his very high expectations.
Box Office Slow To React, But May Rise In Time
In the last reported week of box office figures, the week ending March 20, 2016, She Loves Me brought in $505,150, which represents just 56.14% of its gross potential. With a top ticket price of $149.00, the average paid admission that week was $64.49, and the audience was filled up to an average capacity of 97.1%.
Nevertheless, these figures do not yet take into account the reaction to the rave reviews, which only came out late into the evening on March 17, 2016. Therefore, the following weeks' box office figures will be more telling, as to whether audience members will respond to critics' unanimous urging not to miss this production.
Scheduled To Close June 2016
Although it is an excellently reviewed musical, it is also a Roundabout Theatre Company production playing in theatre pre-scheduled to continue with that company's season, and thus it is scheduled to close on June 12, 2016.