Scandalous Opens on Broadway at the Neil Simon Theatre
Scandalous: The Life And Trials Of Aimee Semple Mcpherson Is An Original Musical Based On The Life Of A Female Evangelist Between 1920s To 1940s
---
"Scandalous" Opens With A Rocky Start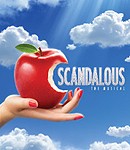 The new musical Scandalous: The Life and Trials of Aimee Semple McPherson opens tonight at the Neil Simon Theatre. Written by Kathie Lee Gifford (Book and Lyrics), David Friedman (Music), and David Pomeranz (Music), Scandalous is an original musical based on the life of a controversial female evangelist who was world-renowned in the 1920s to 1940s.
The musical has been a passion project for Gifford, who has been fascinated by McPherson for decades and wanted to musicalize her story. During its preview period, which began on October 13, Scandalous has not been without its troubles.
Carolee Carmello On Vocal Rest
The show has struggled to sell tickets, even earning the lowest average admission ticket price of any Broadway show last week. Making matters worse, star Carolee Carmello had to go on vocal rest yesterday due to voice strain, necessitating the cancellation of two performances right before opening night.
Hopefully being rested up will enable Carmello, a Broadway veteran who is highly-regarded in the theatrical community, to give a knockout performance on opening night.