Scandal and Satire Never Go Out of Style, as a New Exhibition Attests
The New York Public Library Is Marking The 250th Anniversary Of Voltaire's Candide With A Dual Celebration, The Library Is Hosting Two Exhibitions: Candide At 250: Scandal And Success
---
Celebrate 250 Years of "Candide" at the NY Library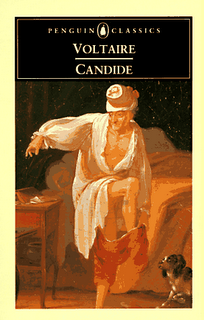 Voltaire's "Candide," the rollicking, ironic, effervescent commentary on 18th-century Europe, turns 250 this year, and the New York Public Library is celebrating with not one, but two exhibitions. The book's sharp-eyed mix of satire and social commentary made it both widely popular as well as a target for its scandalous nature from the Vatican. It has been made into a superb and well-loved operatic musical, and the story has been illustrated more than 100 times; other authors have even tried their hands at adding to our hero's adventures.
Now, the Stephen A. Schwartzsmann Building of the New York Public Library (Fifth Avenue at 42nd Street; 917-275-6975) hosts the exhibition "Candide at 250: Scandal and Success" in its Sue and Edgar Wachenheim III Gallery, though April 25. The exhibition includes all 17 of the (known) 1759 editions of the book, as well the original manuscript of "Candide," on loan from the Bibliotheque Nationale de France. But wait...there's more! In conjunction with the physical library exhibition, an online exhibition is also being presented. (candide.nypl.org).
A Closer Look at the Online Exhibition
"On the Road with Candide" offers an "online journey" that takes viewers/readers though commentary, illustrations, videos and even a lesson plan concerning the novel. It's a lively and in-depth look at the novel that even includes a project done by Brooklyn 10th graders, as well blog posts by NYPL curators and guest artists. (How modern of the Library!) Scandal and satire? It was as modern then as it is now.