Sam Gold's "A Doll's House, Part 2" Begins Previews
A Doll's House, Part 2, a new play by Lucas Hnath which explores the next chapter of A Doll's House, begins previews in a production directed by Sam Gold.
---
Lucas Hnath's New Play Explores Next Chapter of Classic Drama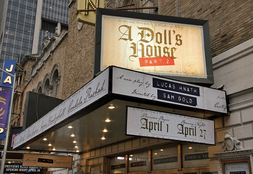 Henrik Ibsen's
A Doll's House
is widely considered to be one of the greatest works of classic drama. This play, which first premiered in 1879 in Copenhagen, Denmark has been performed in countless productions all over the world. On Broadway alone, the show has been produced 13 times, the earliest taking place in 1889, and the most recent having been mounted in 1997 at the Belasco Theatre. It is also one of the most often studied plays for drama students, and it has also been adapted into as many as eight films, with one scheduled for this year starring Ben Kingsley and Michele Martin. In any case,
A Doll's House, Part 2
is not this play. It is an exploration of what might have happened 15 years following the conclusion of Ibsen's masterpiece. One of the most memorable moments in
A Doll's House
is the final scene, in which the protagonist, Nora, leaves her husband. Lucas Hnath, a contemporary playwright whose other works have included
Red Speedo
,
The Christians
, and
Hillary and Clinton
, has taken on the challenge of the thought experiment considering the question: what if Nora returned? 15 years later, there is a knock on the same door that Nora memorably slammed shut, never to return. It's Nora – but why has she come back, and what does this mean for her family who thought she was gone for good?
Sam Gold Directs an All-Star Cast in "A Doll's House, Part 2"
Taking on the mantle of this innovative work is none other than Sam Gold, adding another credit to his increasingly impressive list of Broadway directorial endeavors, which includes
The Glass Menagerie
starring Sally Field, the Tony Award winning musical
Fun Home
, Tom Stoppard's
The Real Thing
, as well as
The Realistic Joneses
,
Picnic
, and
Seminar
starring Alan Rickman. At this point, he now has three shows running concurrently on Broadway, in addition to several Off-Broadway shows up his sleeve. The cast of
A Doll's House, Part 2
is equally enticing. Nora is played by Laurie Metcalf, whose previous Broadway credits include
Misery
,
The Other Place
,
Brighton Beach Memoirs
,
November
, and
My Thing of Love
. Torvald is played by Chris Cooper, who has previously been seen on Broadway in
Of the Fields, Lately
, and whose many film credits include
American Beauty
,
Lone Star
, and
Adaptation
. The role of Anne Marie is played by Jayne Houdyshell, a Broadway audience favorite whose credits include
The Humans
,
Fish in the Dark
,
Romeo and Juliet
,
Dead Accounts
, and
Follies
. Finally, the cast is rounded out by Condola Rashad in the role of Emmy; her previous Broadway credits include
Romeo and Juliet
,
The Trip to Bountiful
, and
Stick Fly
.
A Stumbling Start at the Box Office
Despite the impressive list of accolades for the cast and creative team, as well as the widely beloved source material,
A Doll's House, Part 2
is not doing so hot at the box office. Perhaps it is because people just don't know what to expect with this mysterious work – is it experimental? Is it akin to a classic drama? While Henrik Ibsen is a household name, Lucas Hnath certainly is not, and the cast may not be enough to drive ticketbuyers to the box office in this case. In the last week of reported figures, the week ending April 9, 2017,
A Doll's House, Part 2
brought in a weekly gross of just $106,139 across eight performances. With a top ticket price of $273.00, the average paid admission was just $23.18, and the audience was filled up to an average capacity of 73.8%. This was the first full week of performances, following a partial week of previews, the week ending April 2, 2017, which brought in a weekly gross of $85,982, or 18.22% of its gross potential in five performances. This is especially surprising given the success rate of the show's producer, Scott Rudin, who has historically demonstrated a knack for packaging the right cast with the right material to drive ticket sales. Still, the show has not opened yet – it's opening night is scheduled for April 27, 2017 – and Rudin may still have a few tricks up his sleeve. The play is presently scheduled to close on July 23, 2017, but it might not get that far if ticket sales don't pick up.
Discount Broadway Tickets
---
---