"Saint Joan" Begins Starring Condola Rashad
Saint Joan has Begun Previews on Broadway Starring Condola Rashad in a Manhattan Theatre Club Production Directed by Daniel Sullivan.
---
George Bernard Shaw Play Revived in Manhattan Theatre Club Production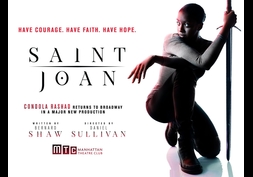 On April 3, 2018,
Saint Joan
began preview performances on Broadway at the Manhattan Theatre Club's Samuel J. Friedman Theatre. The show is scheduled to have its official opening night on April 25 and closing date of June 10. The play is written by George Bernard Shaw, who is known, at his insistence, simply as Bernard Shaw. This production, directed by Daniel Sullivan, marks the eighth time this play has been seen on Broadway, beginning with its premiere in 1923 to 1924, starring Winifred Lenihan as Saint Joan, the 15th century French military figure also known as Joan of Arc (or Jeanne D'Arc).
When the show premiered, Joan had been canonized by the Roman Catholic Church only three years prior, and this play was Shaw's effort to accurately dramatize the events of her life and trial. The play is Shaw's only tragedy, among the more than 60 that he wrote, including
Man and Superman
,
Pygmalion
,
Heartbreak House
,
Major Barbara
and
Caesar and Cleopatra
. This production is directed by Daniel Sullivan, whose many other Broadway directorial credits include
The Little Foxes
,
Sylvia
,
Orphans
and
Glengarry Glen Ross
.
Condola Rashad Takes on a Role Portrayed By a Long Line of Great Actresses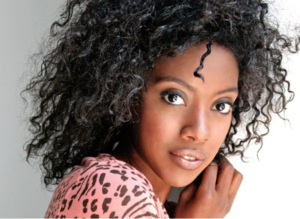 Following the 1923 Broadway premiere starring Winifred Lenihan, the London premiere in 1924 starred Sybil Thorndike, whom Shaw had in mind when writing the play. The next Broadway production took place in 1936, starring Katharine Cornell as Saint Joan, followed by a revival in 1951, starring Uta Hagen.
Next, the show was revived on Broadway in 1956, starring Siobhán McKenna, who also followed that production to London. The following Broadway revival took place in 1968, starring Diana Sands, followed by a Broadway revival in 1977, starring Lynn Redgrave. The last Broadway production prior to the current one took place in 1993, starring Maryann Plunkett as Joan.

Who is Condola Rashad?
Rashad, despite her youth, has already been on Broadway several times. Her debut was in 2011 in the playStick Fly, and then in 2013, she appeared in The Trip to Bountiful. In 2013, she starred as Juliet in Romeo and Juliet, and last year, she played Emmy in A Doll's House, Part 2. Rashad now returns to Broadway to star in Saint Joan, alongside a cast that also includes Walter Bobbie as the Bishop of Beauvais (director of such shows as Bright Star, Venus in Fur, Sweet Charity. The last time Bobbie was on the Broadway stage as an actor was in the 1992 production of Guys and Dolls as Nicely-Nicely Johnson.

The cast of Saint Joan also includes Adam Chanler-Berat (Amélie, Peter and the Starcatcher), Jack Davenport (making his Broadway debut), John Glover (The Cherry Orchard, Macbeth), Patrick Page (An Act of God, Spring Awakening), Daniel Sunjata (The Country House, Macbeth), Maurice Jones (The Cherry Orchard) s, Russell G. Jones (making his Broadway debut), Mandi Masden (Jitney), Max Gordon Moore (Indecent, Relatively Speaking), along with a sizeable ensemble.