"Rocky the Musical" Closes on August 17th
Rocky The Musical, Based On The Boxing Film Of The Same Name, Will Play Its Final Performance At The Winter Garden Theatre On Sunday, August 17, 2014.
---
Boxing And Singing Prove A Confusing Combination For Broadway Audiences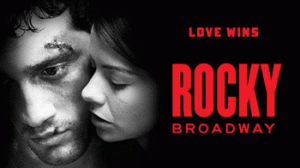 Rocky the Musical, based off the renowned film of the same name, has announced a premature closing on Broadway. The musical began previews on February 13, 2014, and had its official opening on March 13, 2014.
It will close on Sunday, August 17, 2014, after only 28 preview performances and 180 regular performances. With a hefty budget of $16.5 million, that means the musical will certainly close at an extraordinary loss.
"Rocky The Musical" Slam Dunk Run In Germany
It would have had to run for at least a year with excellent sales in order to recoup, so this represents a significant disappointment for the show's producers, who were expecting this to be a huge hit. After a slam dunk run in Hamburg, Germany, the show transferred to Broadway, where it received only mixed reviews.
The director, Alex Timbers, is one of Broadway's darlings, having sprung onto the scene at a young age, and already directed several shows on Broadway including Peter and the Starcatcher, Bloody Bloody Andrew Jackson, and The Pee-wee Herman Show. Nevertheless, his theatrical ingenuity was not enough to spur sales on a show that was perhaps dissonant with the usual Broadway demographic.
Another Flop For Stage Entertainment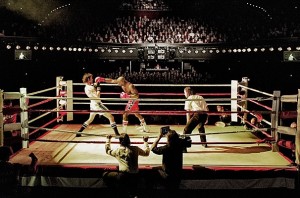 Rocky is a very ambitious show from a technical perspective. In the final extended musical number, an entire boxing ring even sprung up in the middle of the orchestra, requiring some audience members to re-seat.
This spectacle was certainly astonishing for theatergoers, but unfortunately spectacle alone did not send ticketbuyers flying to the box office. The disappointment is particularly severe for the show's producers, the international theatre presenters Stage Entertainment who have seen several Broadway flops in recent years, including Sister Act and Big Fish.
Broadway Is A Hard Nut To Crack
Though Stage Entertainment has reaped significant financial success from many of their European productions, Broadway is proving a harder nut to crack. Still, the show is likely to go on a national tour, which raises the question of how to transport the heavy scenic elements on the road, and it is also sure to have a series of regional productions.
These further runs will contribute to financial revenue for the producers, though the show will still likely be a long way off from proving a financial success.
Recent Weeks Show Financial Promise, But To No Avail
Grosses at the Winter Garden Theatre have shown an upsurge since the closing announcement was made in mid-July. In the week ending August 10, 2014, the show brought in a gross of $795,275, which was an increase of $27,756 from the week before.
In the week before that, the show demonstrated an increase of $65,714, and before that there was an increase of $27,742. Therefore, the show has been on a steady increase in ticket sales in the last month.
Stiff Competition On Broadway
This shows that there is an audience for the show, but unfortunately ticketbuyers did not prioritize this purchase amongst the slew of Broadway options to choose from. Perhaps they expected the show to stick around for longer, but now that there is not much time left to catch the performance, they are pulling out their wallets.
Unfortunately, this demonstration of interest came too late for Rocky the Musical, which may have had a chance given another few months for the brand to pick up and for word of mouth to spread.