Rocky Announces Early Closing in August 2014
Rocky The Musical Will Close At The Winter Garden Theatre On August 17, 2014 After Six Months, Which Is A Disappointment For The Highly Anticipated Musical.
---
Despite High Hopes, Rocky's Broadway Run Will End After Just Six Months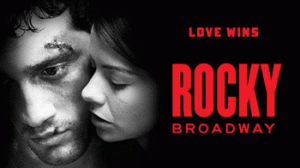 Rocky The Musical took New York by storm when it first showed up on Broadway this winter. In anticipation of its first preview on February 13, 2014, it ousted Mamma Mia! from the Winter Garden Theatre, which had been its home for the last six years.
Rocky arrived fresh from a successful 2012 run in Hamburg, Germany, directed by hot young director Alex Timbers (Bloody Bloody Andrew Jackson, Peter and the Starcatcher).
"Rocky": Rags To Riches
Based off the 1976 film of the same name, whose screenplay was written by Sylvester Stallone, Rocky is the rags to riches story of Rocky Balboa, a club fighter who eventually gets a shot at the world heavyweight championship.
The musical was nominated for four 2014 Tony Awards, winning one: that for Best Scenic Design. However, just six short months after the musical began performances, it will close: on August 17, 2014.
A Financial Loss On Broadway
With a reported capitalization of $16.5 million, Rocky is sure to close at a loss. Weekly grosses have fluctuated, but generally been around $700,000, which is not excellent for a musical in such a large theatre. For instance, in this past week ending July 13, 2014, the musical grossed $626,984, which is only 49.62% of its gross potential.
With such soft sales, the producers of Rocky are unlikely to have made back nearly any of their investment. This loss is a gigantic disappointment for the international producing organization Stage Entertainment, which was also behind the unsuccessful musicals Sister Act and Big Fish.
Mixed Reviews And Audience Confusion
Still, there were high hopes for Rocky, which succeeded in its Hamburg run, so much that the Shubert Organization was persuaded to move Mamma Mia! and give up one of its prime houses. However, reviews were mixed in the United States, and audiences could not quite wrap their head around the idea of a musical rendition of this classic film.
The "Golden Circle", And The Tony Award For Best Scenic Design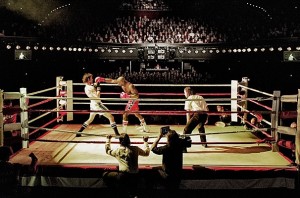 The show is particularly ambitious in terms of its scenic design, for which it was given a Tony Award. In a most notable design feature, a boxing ring descends on the audience during a final climatic moment.
This "Golden Circle" requires that 64 orchestra seats be vacated, with the audience re-located to the stage. Specifically, the center orchestra in rows AA through F are moved to bleachers, where the group's view of the show isn't as good as the remaining audience's view of them.
"Rocky" Spectacle Can't Overcome Mediocre Response
However, this scenic feat is very impressive, and succeeds in making the audience feel as close to being in an actual boxing match as could be possible in a Broadway theatre. Unfortunately, this spectacle was not enough to overcome the mediocre response to the narrative and score.
What Lies Ahead Beyond Broadway
Though this is a blow to the otherwise perfect record for director Alex Timbers, he is likely to remain on his feet. His most recently announced upcoming project is a collaboration with husband and wife composing team Bobby Lopez (The Book of Mormon, Avenue Q) and Kristen Anderson-Lopez (Frozen). It is called Up Here, and will premiere at the La Jolla Playhouse in 2015.
Meanwhile, Rocky may decide to embark on a national tour, although its scenic elements are sure to pose a difficulty in creating a portable version of the show. As the elaborate design was its biggest asset, a tour is a questionable choice, and the producers may decide that it is ultimately unfeasible.