Rock of Ages Movie Fails at the Box Office
The Rock Of Ages Movie Fails To Rock The Box Office And Barely Moves The Needle On The Broadway Show. Where Did The Movie Go Wrong?
---
"Rock Of Ages" Bigger Success On Broadway Over Film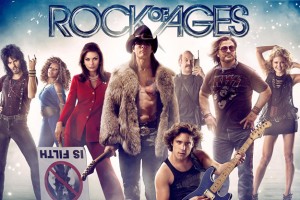 The film version of the highly successful Broadway musical Rock of Ages opened this past weekend to disappointing box office sales and tepid reviews. Featuring a star-filled cast and a slew of beloved '80s hair-band hits like "Pour Some Sugar on Me" and "Wanted Dead or Alive", Rock of Ages seemed poised to do well, but when all was said and done, the hard-rocking movie only placed #3 at the box office, bringing in less than $15 million in ticket sales.
The exact reason for Rock of Ages' lackluster performance is hard to pinpoint. Some of the reviews felt the Rock of Ages movie failed to capture the silly fun and hard rock spirit of the Broadway show version (and of course the film couldn't possibly duplicate the concert-like feel of a live show).
Star-Studded Cast Fails To Attract Audiences
The movie advertisements, which emphasize the more famous cast members (Tom Cruise, Catherine Zeta-Jones, Russell Brand, Paul Giamatti, etc.), are also rather misleading, since the main characters are actually played by relative unknowns. Some moviegoers may have also simply thought that the movie looked a bit too cheesy for their tastes (Alec Baldwin in a ratty-looking long wig can't be helping matters on that front).
Perhaps the real question is whether or not '80s music has as much mass appeal anymore, particularly to the largest movie-going demographic, young men. It's more likely that their parents are the ones who hold a strong affection for '80s hair metal, which would explain why Rock of Ages is a bigger success on Broadway (where middle-aged ticket buyers rule) than in movie theaters (which is more the domain of young people).