Revival of "The Glass Menagerie" Earns Mixed Reviews on Broadway
The Highly Anticipated Revival Of The Glass Menagerie Opened March 9, 2017 At The Belasco Theatre On Broadway However, Not All Critics Were Enthused By The Production
---
Revival of Tennessee William's Masterpiece Directed by Sam Gold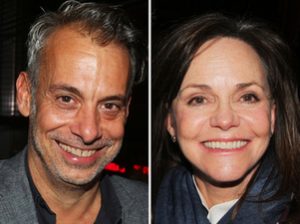 On March 9, 2017, The Glass Menagerie had its official opening night at Broadway's Belasco Theatre, where it had been playing in preview performances since February 7, 2017. This revival of the classic memory play by Tennessee Williams is one of the most often performed and read work of theatre in schools across America, and is an inextricable part of the American cultural heritage. This production, which is directed by 30-something year-old director Sam Gold, stars Sally Field as Amanda Wingfield, Joe Mantello as Tom Wingfield, Madison Ferris as Laura Wingfield, and Finn Wittrock as the Gentleman Caller, Jim O'Connor.
With such a celebrated cast, in particular Sally Field for whom this is only her second performance on Broadway, this revival of The Glass Menagerie was highly anticipated. However, not all critics were enthused by the production. Sam Gold has had an auspicious career in the last few years. After directing many well-received works Off-Broadway, he was considered somewhat of a wunderkind before Broadway producers began entrusting him with the big stage.
Director Brings Diverse Results to Broadway
Since his Broadway debut with Seminar in 2011, he has gone on to direct many Broadway shows including Picnic, The Realistic Joneses, The Real Thing, Fun Home, The Glass Menagerie, and the upcoming production of A Doll's House, Part 2. Among these, there have been as many misses as hits, with his biggest success to date being the Tony Award winning musical Fun Home.
Ben Brantley from The New York Times Slams The Glass Menagerie Revival
Widely considered to be the most respected and influential theatre critic in New York City, Ben Brantley of The New York Times did not like this revival of The Glass Menagerie at all. In a review entitled "Dismantling 'The Glass Menagerie'," Brantley began his critique by comparing Gold's production to shattering the glass of Tennessee William's brilliant play, stating that the resultant shards are available for inspection at the Belasco. While his review's title may be considered a way into a compliment, Brantley quickly assures his readers that this production does not succeed in reassembling the dismantled shards into anything insightful whatsoever.
While complimenting Sally Field for being "intrepid" and "relentless," he found Joe Mantello's performance to be distant and detached. One innovation in this production was casting an actually disabled actress, Madison Ferris, who has muscular dystrophy, in the role of Laura Wingfield, who is written as having a limp. Despite that arguably politically correct interpretation, Brantley cites Ferris' performance as bringing unwritten ferocity to the character, who is designed to be invisible and sick with shyness. In fact, the play's events rely on her being as such. While Williams' play depends on the tension in his poetic conflict, Brantley argues that Gold's production fails to allow his actors to connect meaningfully.
Other Critics Were Less Condemning of the Broadway Production
While Brantley had no sympathy for this revival, other reviewers were more positive in their response. David Cote from Time Out New York called it "bravely executed" and "starkly compelling," praising Gold for unapologetically interrogating this classic work. Maya Stanton from Entertainment Weekly was also a fan, calling the revival "innovative" and "back-to-basics," and complimenting the top-notch cast and crew. Jeremy Gerard from Deadline was another supporter of this production, calling Sally Field's performance "riveting" and "unvarnished," and Sam Gold's production "shocking," relishing in the minimalistic interpretation of a work that is traditionally designed with the accoutrements of poverty.
Matt Windman from AM New York was more on the fence, calling the production "misconceived" and deeming it to break Sam Gold's winning streak with such works as Fun Home. In any case, the Broadway box office was not doing excellently prior to this string of reviews, which may serve to enhance word of mouth, but are more likely to have little to negative effect on audience members' interest in seeing this over-produced classic, even though it stars the beloved Sally Field in a rare Broadway performance. This past week, the week ending March 12, 2017, the production brought in a weekly gross of $432,396, or 46.73% of its gross potential. The play is scheduled to run until July 2, 2017.