Remember Records and 45s? The Record and CD Show Has Them All
Take It Back Old School With The New York City Record & CD Show Going On All Day November 21st, 2009 In Nostalgic Treasure Trove Event
---
The New York City Record & CD Show Happening Today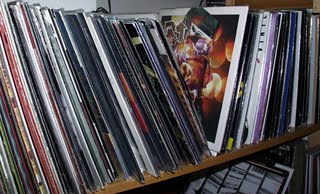 Not quite ready to be assaulted with the Christmas trees and dancing elves that have proliferated across New York? Looking for something a little more gritty and nostalgic? Wondering in the back of your mind what to get your third-cousin-once-removed for the holidays? Wonder no more. (Hey, wasn't he the one who liked hard-to-find Jimi Hendrix recordings?)
Today is The New York City Record & CD Show (10 am-4 pm; Holiday Inn New York City; 440 West 57th Street; 973-209-6067), the answer to your what-to-do-today-that's-slightly-hipsterish-and-cool dilemma.
Unique Records, CDs, DVDs, And 45s
It's one of those just-under-the-radar events that make New York like a giant treasure trove--you just have to know where to look. (The show is open to the public, but there's a $6 admission fee.) Dealers from many northeastern and mid-Atlantic states will be attending; merchandise will include (take a breath) records, CDs, DVDs, 45s (remember those?) singles, posters, t-shirts and more. (What more is there?)
Out-of-print and rare tracks will be available (otherwise, what's the point, really?) and music from rock to jazz to soul to new age to classical will all be included. So while everyone else is knocking down his or her neighbor at some one-day sale at a headache-inducing mega store, you can slip into midtown and rest secure in the knowledge that you're hip--and you've gotten your cousin something he'll really appreciate.