Record-Breaking Season for Broadway in 2015-16
Broadway Broke Records For The 2015-16 Season, Bringing In $1.37 Billion Dollars With An Attendance Of 13.32 Million People.
---
Third Record-Breaking Year In a Row For Broadway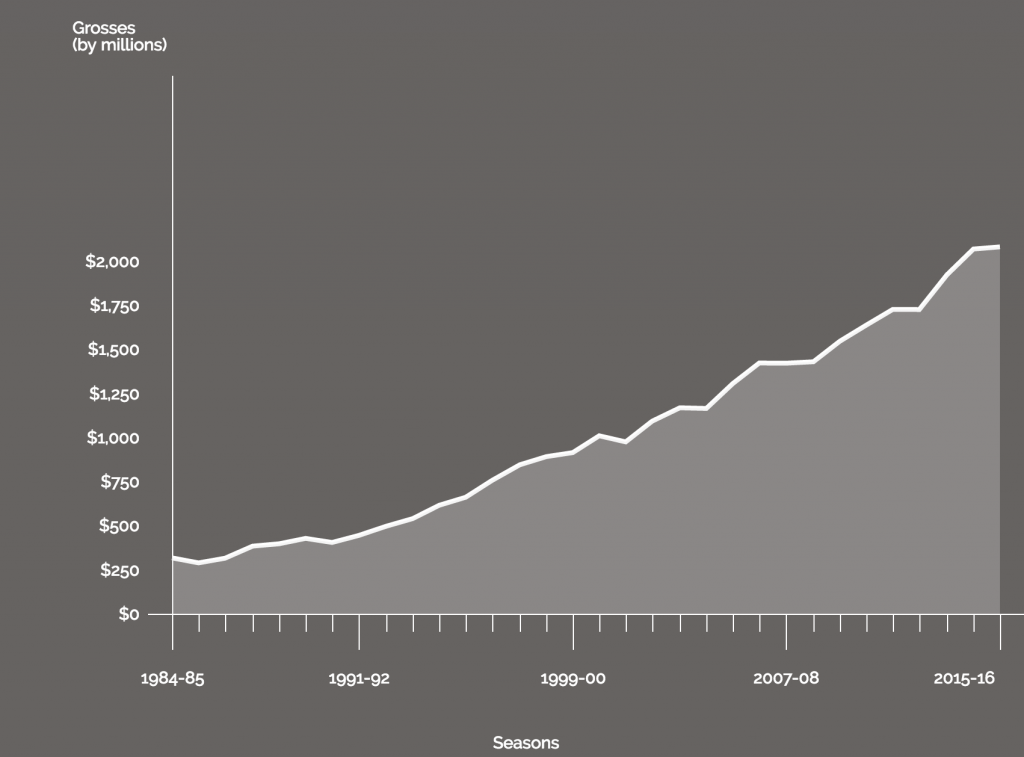 According to the recently released figures from the Broadway League for the 2015 to 2016 season, the industry has broken its record for the highest collective grosses for the third year in a row. This year, the total gross was $1,373,253,725, which is an increase from last year's total annual gross of $1,365,232,182.
The Broadway League calculates its seasons from spring to spring, as the summer is usually a low period for new shows opening. This past season concluded on May 22, 2016. There are many reasons that this year was a continual success for Broadway.
Increase In Premium Ticket Sales
One main cause is the persistent increase in premium ticket sales, with many shows selling top price tickets in the realm of $500. Furthermore, the content of shows is continually diversifying, with this year's Hamilton exemplifying how there are new audiences to be found for Broadway. The overall attendance was also an increase from the previous year, reaching a collective attendance of 13.32 million people.
However, one startling decrease was in the average paid admission. For the first time in recorded history, the average paid admission decreased – to $103.11 from last year's $104.18. Another marker of a successful season is how long the shows stayed open, and how many shows were running – this is calculated in terms of total playing weeks. This season, the total playing weeks increased to 1,648, up from last year's 1,626.
Only 5 Out of 39 New Shows Recouped Their Initial Investment
This year, there were 39 new productions, which is an increase from last year when there were 37. The year before that, however, there were 44, and in 2012-13, there were 46. In any case, of the 39 new shows this past season, only five recouped their capitalization. This demonstrates how it is no small achievement to make a Broadway show profitable.
Of these five, four were either small-scale shows relying on the star power of their cast, or spectacle-based shows that were not traditional plays or musicals.
"Hamilton" Receives Outstanding Word Of Mouth
These were An Act of God, starring Jim Parsons, which is soon to be revived starring Will & Grace's Sean Hayes, China Doll, which was a poorly reviewed David Mamet play that nevertheless rode on the stardom of Al Pacino, Penn & Teller on Broadway, which is a Vegas transplant magic show that is not quite theatre, and The Illusionists, which is the same.
The fifth show to recoup its investment was Hamilton, which has not officially announced this recoupment, although it is speculated. Although Hamilton is playing in a medium-size theatre of 1,321 seats (in contrast to megahits The Lion King and Wicked, which play in much larger theatres), the outstanding word of mouth has made this new musical a phenomenon discussed amongst all demographics and in all forms of media.
Broadway Continues To Be Major New York Tourist Attraction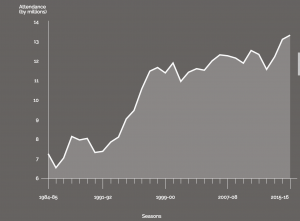 In the 2015-16 season, the attendance for Broadway shows was greater than the combined attendance for the top 10 sports teams in New York and New Jersey: the Mets, Yankees, Knicks, Islanders, Rangers, Jets, Devils, Giants, Liberty, and the Nets.
The industry continues to be one of the greatest tourist destinations in New York City. It is calculated that 67% of Broadway attendance is made up of tourists, and 33% is made up of locals. The attendance amongst domestic tourists has been steadily growing, from 3.4 million in 1999 to 6.4 million in 2015.
Broadway Remains Healthy Despite Digital Age
It was also reported that 7.7 million tickets were sold to visitors for whom Broadway was a principal reason for the trip to the city. Regarding audience members who go to Broadway on repeat occasions, 60% of Broadway theatregoers attend two or more shows in a season, and on average theatregoers attend four shows. Those who attend fifteen or more shows account for just 5.6% of the audience, but 32% of tickets sold across all shows.
Furthermore, it continues to be the case that women are a majority of the audience, with 68% of theatregoers this season being women, and furthermore it is shown that women are more likely to make the purchasing decision, even when men come along as well. All in all, these statistics show that the Broadway industry is in a healthy state, continuing to defy odds in this digital age.